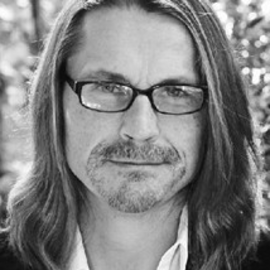 Kurt Sutter is an American screenwriter, director, producer and actor. He worked as a producer, writer and director on "The Shield" and appeared on the show as hitman Margos Dezerian. Sutter is also the creator of "Sons of Anarchy" on FX and writes, produces, directs and plays incarcerated club member Otto Delaney on the series. Sutter spent time with members of an outlaw club in Northern California as research for "Sons of Anarchy."
Sutter graduated from Rutgers University with a BA in mass media with a minor in English in 1986. He moved to New York City and studied Meisner technique, did theater and taught at the Gately/Poole Conservatory. Additionally, Sutter received an MFA from Northern Illinois University in 1997.
Sutter moved to Los Angeles, California in 2000. Sutter was hired as a staff writer for the first season of FX crime drama "The Shield" in 2002. He made his television writing debut with the episode "Blowback" in which he appeared as Armenian mob hitman Margos Dezerian. He co-wrote the episodes "Dragonchasers" and "Two Days of Blood" with fellow staff writer Scott Rosenbaum, and was promoted to story editor for the second season in 2003. He wrote the episodes "Scar Tissue" and "Dead Soldiers" and in 2004, joined the production team in the junior role of co-producer for the third season. He continued to write episodes and scripted "Playing Tight" and "Mum" with series creator and executive producer Shawn Ryan, "Slipknot" solo, and "Fire in the Hole" with consulting producer Charles H. Eglee. He reprised his role as Dezerian in the season's final episodes "All In" and "On Tilt."
He was promoted to supervising producer for the fourth season in 2005. He wrote the episode "Grave" solo, co-wrote the story for the episode "Judas Priest" with Eglee and co-wrote the teleplay with Rosenbaum. He co-wrote the story for the season finale "Ain't That a Shame" with Ryan; Ryan co-wrote the teleplay for the episode with co-executive producer Glen Mazzara. Sutter became a co-executive producer for the fifth season in 2006. He wrote the episode "Extraction," co-wrote the episode "Trophy" with Renee Palya and Tony Soltis, and co-wrote the season's penultimate episode "Fire in the Hole" with Eglee.
He became an executive producer for the sixth season in 2007, directed a promotional mini-episode for the sixth season entitled "Wins and Losses," and wrote the sixth season premiere "On the Jones." He co-wrote the episode "Exiled" with Rosenbaum, also now an executive producer.
Sutter returned as an executive producer and writer for the seventh and final season in 2008. He wrote the premiere "Coefficient of Drag" and co-wrote the episode "Parricide" with Gary Lennon. At the close of the season he was the series' second most prolific writer (after Ryan), having written or co-written 18 episodes in total.
Also in autumn 2008, Sutter created and executive produced a new series for FX entitled "Sons of Anarchy." The show centers on the titular motorcycle club in California. He was the series head writer and showrunner. Along with the pilot episode he wrote the episodes "Seeds," "Funtow," "The Pull," "Capybara," "The Sleep of Babies" and the season finale "The Revelator"; Sutter also directed "The Revelator." Sutter appears in the show as incarcerated club member Otto Delaney, and he cast his wife Katey Sagal in the starring role as the club's matriarch Gemma Teller. Sutter also hired several crew members whom he had worked with on "The Shield," including unit production manager and producer Kevin G. Cremin, post-production supervisor and producer Craig Yahata, and directors Guy Ferland, Stephen Kay, Gwyneth Horder-Payton, Paris Barclay, Terence O'Hara and Billy Gierhart. The first season also featured "The Shield" star Jay Karnes as a recurring special guest star playing ATF Agent Joshua Kohn.
Sutter remained showrunner and executive producer for the series' second and third seasons. He reprised the role of Otto in the third season finale, titled "NS," which he also directed and co-wrote with Erickson.
Videos
---
Related Speakers View all
---
Maggie Siff

Actress Known for her Roles in "Sons of Anarchy" and...

Jay Duplass

Star of Amazon's Series "Transparent" & Writer of HB...

Mara Brock Akil

TV Producer and Writer

Liz Meriwether

Creator of FOX's "New Girl"

Liev Schreiber

American Actor, Producer, Director, and Screenwriter

Steve Buscemi

Actor; Known for "Boardwalk Empire," "Fargo" and "Re...

Adam Rodriguez

American Actor, Screenwriter, & Director Best Known ...

Bong Joon-ho

South Korean Director & Screenwriter Known for "Para...

Nzingha Stewart

Television Writer & Director

Frankie Shaw

Golden Globe-Nominated Creator, Writer & Director of...

Jordan Vogt-Roberts

Director; Best Known for "The Kings of Summer"

Jim Jarmusch

Director & Writer; Known for "Stranger Than Paradise...

Paul Thomas Anderson

Screenwriter, Producer, Director. Received an Academ...

Simon Kinberg

Writer, Producer

Phil Lord and Chris Miller

American Film and Television Writers, Producers, Dir...

Robert Carlock

American screenwriter and producer who has worked as...

Lilly Wachowski

Director, Writer & Producer

John Hamburg

American screenwriter and film director

Joel Edgerton

Actor Known for His Role in "The Great Gatsby" & "Th...

Joe Cornish

Screenwriter for Marvel's "Ant-Man"
More like Kurt