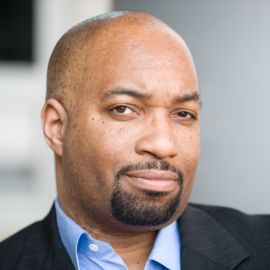 Kwame Alexander
NY Times Bestselling and Newbery Award-Winning Author, Poet, Educator, Best Known for Novels "Booked" and "The Crossover"
Kwame Alexander is a poet, educator, and New York Times Bestselling author of 21 books, including Booked and The Crossover, which received the 2015 John Newbery Medal for the Most Distinguished Contribution to American literature for Children, the Coretta Scott King Author Award Honor, The NCTE Charlotte Huck Honor, the Lee Bennett Hopkins Poetry Award, and the Paterson Poetry Prize. Kwame writes for children of all ages. His other works include Surf's Up, a picture book, CRUSH: Love Poems for Teenagers, and He Said, She Said, a YA novel.
Kwame believes that poetry can change the world, and he uses it to inspire and empower young people through his PAGE TO STAGE Writing and Publishing Program released by Scholastic. Recently, he served as the The Bank Street College of Education Center for Children's Literature's Inaugural Dorothy Carter Writer-in-Residence. A regular speaker at schools and conferences, he travels the world planting seeds of literary love (Singapore, Brazil, Italy, France, Shanghai, etc.). Each year, Alexander leads a delegation of writers, educators, and activists to Ghana, as part of LEAP for Ghana, an International literacy program he co-founded that builds libraries and provides literacy professional development for teachers.