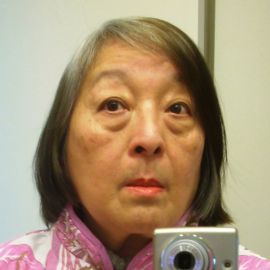 Kyi May Kaung
Speaking Truth to Power--
Kyi May Kaung, also writing as KMKaung, holds a doctorate in Political Economy and an M.A. from the University of Pennsylvania in City Planning. In addition she has a B.A. and an M.A. in Economics from Rangoon University.
She worked from 1997-2001 in international broadcasting to Burma as a Sr Research Analyst, and was Sr Analyst and Fellow for The Burma Fund, affiliated with the Burmese Democratic Government in Exile (Washington, DC based) from 2001 to 2009.
She is also an award winning poet, short story writer, columnist and novelist.
Her full length novel Wolf is soon to be released.
She has had over a dozen international art shows and has read poetry and fiction widely.
Edward Albee praised her 2 act play Shaman, and she has won Fulbright, and Pennsylvania Council on the Arts grants and was a Pew finalist in Literature twice.
She is a riveting speaker with great polish who has been interviewed often.
Speech Topics
---
Burma--The So-called Transition to Deomcracy
Since 2011 and Mrs. Clinton and President Obama's first visit to Naypyitaw, the "King's Royal City" in the heartland of Burma--the international and Burmese language media has been touting "reforms."
But the recent death by torture of Par Gyi, a reporter covering the war on the eastern border, just before Presdt Obama's second visit, the systematically amped up "interracial conflict" between Muslims and Buddhists, the visit of the racist monk Wirathu to Sri Lanka, and ongoing land grabs from farmers, the picture for democracy in Burma is not encouraging.
I give a blow by blow account of what has been happening since 2011 and provide background on the Burmese junta and its policies.
Related Speakers View all
---
Dr. Sein Win

Prime Minister, National Coalition Government of the...

Michelle Yeoh

Malaysian Actress Best Known for "Crouching Tiger, H...

Malala Yousafzai

Youngest-Ever Nobel Prize Winner; Advocate for Girls...

Luc Besson

Luc Besson (born March 18, 1959) is a French film di...

Lech Walesa

Nobel Laureate & Global Leader

Pasha Pashkov

Dancer, Known for "Dancing with the Stars"

Charles Oakley

Former NBA Basketball Player

AJ McLean

Best Known as the Perpetually Sunglass-ed Backstreet...

Hannah Fry

Complexity Theorist & Author of "The Mathematics of ...

Donna Brazile

Veteran Political Strategist, Bestselling Author, Fo...

Alan Hobson

Author, Mt. Everest Climber & Cancer Survivor

Gabe Kleinman

Gabe co-leads engagement, planning and relationship ...

Maysoon Zayid

Palestinian-American Actress, Writer, Comedian & Dis...

Erin Brockovich

Consumer Advocate, Author, TV Host & Environmental A...

Tensie Whelan

Director of NYU's Center for Sustainable Business; F...

Josh Dorfman

Environmental Entrepreneur; Founder & CEO of Simbly

Chris Castro

Eco-Entrepreneur; Director of Sustainability for the...

Kate Orff

Sustainable Landscape Architect; Founder of SCAPE

Hunter Schafer

Transgender Actress, Model & Activist Known for HBO'...

Jamie Clayton

Transgender Actress and Model, Currently Starring in...
More like Kyi