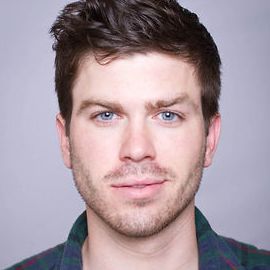 Kyle McCollom
Co-Founder, Everly
Kyle McCollom wants to change the world. Not in the way that the kid growing up says he wants to change the world by being a doctor or the President, but rather in a way that genuinely makes you believe him. And he is taking steps, very strategic and careful steps, to do so.
Kyle was born in Florida, but moved all over the country because his parents were employed by the airlines. He was admitted to the Ingram Scholar Program at Vanderbilt and was determined to be a doctor, taking the pre-Med route and majoring in chemistry and public health. But after his junior year, he moved into a halfway house not far from Campus called the Dismas House where he had been volunteering for some time. The men who lived here were all former offenders, age 22-70 who were trying to get their lives back on track.
Kyle has always served others, but mostly did so with quick out of country trips where he made a small impact in a short period of time and always felt guilty for leaving. "I wanted to serve others somewhere close so I could stay involved on a weekly basis. I spent a lot of time with the men of the Dismas House and I wanted to build trust and relationships. Trust is hard to earn with these people." But he did earn the trust of these men, and teamed up with other Vanderbilt students to launch Triple Thread, a T-shirt screen-printing social enterprise, in partnership with the men at the Dismas House to help former offenders get jobs and transition back into society.
After Triple Thread took off, Kyle didn't want to go to medical school. He wanted to build a business that could change the world. So he got a new advisor and they created a new major called Managerial Studies that still allowed him to graduate on time. All the while, his social enterprise business was in full force, including sales teams who worked on commission. The company that launched in 2010 has created more than 30 jobs and job opportunities and printed over 20,000 shirts. Dismas House has since bought the company and is providing a soft on ramp for these men to get back into society.
Before graduation, Kyle was inspired by a canoe trip to design a natural drink mix that was made with quality ingredients that would pack easily for a long trip with environmentally friendly packaging. His co-founder Chris Cole had worked in a clinic in Bangladesh where he learned about the horrors of dehydration and was moved to promote healthy hydration to others. The two teamed up to design a better drink mix and build a company that uses hydration to help the world. Together, Kyle and Chris created Everly.
"It just made sense to align the two, though saving the world is not our leading value proposition. Using the best ingredients is. Natural food is the movement. No one was making drinks that met the standards of natural food. Everly is to Crystal Light as Cliff Bars is to Powerbars."
As far as marketing Everly, the founders don't plan to spend much. They are counting on their customers to spread the word and for people to see the Everly drink packets, as they take them out of pockets and purses and into the visible space. Kyle and Chris are the brand advocates as well as the creators. They take their own pictures and do their own design and development work.
The giving back and helping to reduce dehydration around the world aspect of their company is run through their non-profit partner; the clinic in Bangladesh. For every packet of drink mix they sell, Everly gives a certain amount of their proceeds to help find and fund Oral Re-hydration Solutions.
Everly works with a national partner that makes beverages with FDA approval. Kyle and Chris work closely with them to develop their products and to source. Their packager is certified as well. "We are very persnickety about how our drink mixes taste. It takes months of taste testing until we get it right."
"We want to make an incredible product first and change the world second. I've learned that you can't rely on your solely on purpose for success. You must have a quality product first while all the while keeping in mind that you're making a difference. Customers will buy because of the product. By growing into a big company and placing emphasis on the product, you will make a greater impact on the world."
Before launching Everly, Kyle worked with Kahootz, a start-up that came from the Jumpstart Foundry, a business acceleration program in Nashville. "Anyone who wants to be an entrepreneur should work for a start-up. I learned so much at Jumpstart Foundry that you just can't learn anywhere else."
"Now is the time to come to Nashville. This town is small enough to make genuine connections. People in the south want to have coffee with you and talk with you. People really do want to help you."
As for Everly, the recipes are done and now it's time to raise the capital to start production. They are planning to launch a Kickstarter campaign from the edge of the Grand Canyon as part of a cross-country tour.
Related Speakers View all
---
Tim Rutten

Marketing and Sales Manager, New Business Developmen...

Alexander Taussig

Principal,Highland Capital Partners

Patricio Bichara

Senior Analyst ,IGNIA Partners LLC

Zachary Sternberg

Managing Partner,Spruce House Capital

Ben Knelman

Founder, CEO ,Juntos Finanzas

Arthur Woods

Social Entrepreneur, Writer, Advisor to Leading Bran...

Heraldo Suero

CEO & Founder,In Crescendo

Micha Weinblatt

Entreprenuer , Crooked Monkey T-shirts

Neil Joglekar

Technology Entrepreneur & Director of Product at McC...

Alexey Dolinskiy

"Partner" , "Capstone Connections"

Dmitry Vasilkov

Member of the Board,OilTech

Ahmad El-Zubi

Director, Research and Studies,Jordan Investment Board

Saleh Al Khulaifi

General Manager,Bedaya Center

Yamen S. Al Hajjar

Public Policy & Gov Affairs,Google

Andres Simon Gonzalez-Silen

MD, CEO, co-founder,Grupo Venemergencia

Chip Johnson

Sr. Associate,Falfurrias Capital Partners

Mehmet Koruturk

Genii Capital

Serhat Karahan
Hinnerk Hansen

Managing Director

Ilya Kosykh

Portfolio Manager,Interros
More like Kyle