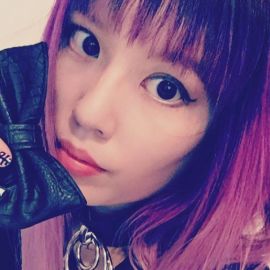 La Carmina
La Carmina is a top travel and fashion blogger (www.lacarmina.com), influencer and TV host. Appears on TV shows for Travel Channel, Discovery, National Geographic and more.
La Carmina of http://www.lacarmina.com is a travel TV host (Travel Channel, National Geographic, Discovery), journalist (Huffington Post, Yahoo, Business Insider, CNN), and owner of a popular travel, lifestyle, fashion & culture blog - http://www.lacarmina.com/blog
La Carmina is featured in major media (The New Yorker, WWD, Cosmopolitan, Vogue, LA Times). She's a CNN, AOL and Huffington Post journalist, author of 3 books (with Random House and Penguin), and hosts TV shows for Discovery, National Geographic, Food Network, Travel Channel and more.
Speeches and appearances worldwide include PRSA Travel and Tourism Conference, Hong Kong Social Media Week, Mediabistro's Social Curation summit, Pecha Kucha Japan and World Tourism Forum in Istanbul, Turkey.
Here is her TV hosting reel, with clips from Andrew Zimmern's Bizarre Foods, CNN, Discovery and more. http://www.youtube.com/watch?v=66w1YOg9HK0
See more on LaCarmina's popular blog http://www.lacarmina.com/
Videos
---
Speech Topics
---
How to grow a blog and influencer career
La Carmina of http://www.lacarmina.com presents a 20x20 speech at Pecha Kucha Tokyo, about travel TV, professional blogging, Japanese subcultures. La Carmina presents her colorful journey through 20 slides lasting 20 seconds each. She talks about her production arranging company, adventures in Asia travel and fashion, and her cute Scottish Fold cat. This is a clear sample of the PechaKucha speaking format and techniques, and you can see the audience reaction and how the screen displays for the presenter to follow along. She spoke on July 25 at Super Deluxe Roppongi, Tokyo, Japan.