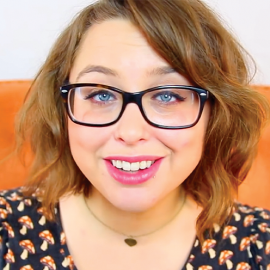 Laci Green is a 24-year-old sexuality geek based out of the San Francisco Bay Area. She is the creator and host of the largest sex education show on the Internet called "Sex Plus!" "Sex+" consists of a biweekly video series, daily blogging, university lectures, and community activism. The project currently reaches 5 million people each month in over 20 countries. She also hosts two other web shows: a science news show for the Discovery Channel and a sex education series for Planned Parenthood.
Videos
---
Speech Topics
---
Best Sex Ever (Most Popular!)
Great for: Dorm orientations, freshman orientations, sex week, general campus
Description: What makes for the best sex ever? Come find out! In this upbeat program, students get a sex positive crash-course about the safe and healthy exploration of their sexuality while in college. Brace yourself for lots of laughs, useful information you never knew you needed, and a fun night that always draws a crowd.
Covers: Pleasure anatomy, sexual exploration, communication, safer sex, STIs, giving/receiving consent, consent & alcohol
Relationsh!t
Great for: Sex week, Valentine's Day, healthy relationship promotion, younger audiences (high school, frosh, soph)
Description: While growing up, we all bear witness to a whole lot of a relationshit. What do we learn makes for a great relationship and how do those ideas affect us? We'll discuss our ideas and lay out a new web of information to chew on about the types of relationships that exist, how to navigate them in a world plagued with cellphones, and how to make sure it's not veering into unhealthy territory. This program helps to build a foundation for strong, fulfilling relationships.
Covers: Cultural perspectives, relationship styles, communication, healthy/unhealthy relationships, relationship abuse
Taking Down Rape Culture
Great for: Sex week, sexual assault awareness & prevention, older audiences (jr/sr), gender studies majors
Description: One in four female college students will be assaulted before receiving her diploma. For other groups, the number is even higher. In this program, we take an urgent and in-depth look at our culture's attitudes about sexual violence. Using recognizable examples, pictures, videos, and discussion questions, this program seeks to illuminate some shocking overarching patterns—and offers solutions to bring it to a screeching halt. Reflections about rape culture on campus and in our everyday lives are certain to prosper after this event.
Covers: Sexual assault, rape culture, victim blaming, consent, survivor support, ending sexual violence
The F Word (Feminism)
Description: It's the 21st century – do we really need feminism? Come out and learn about the feminism debate and how the 3rd wave is making history.
Covers: Goals, history, and critiques of feminism. Power & privilege, intersectionality, how to be an ally or activist.
Related Speakers View all
---
Hannah Hart

YouTube Star & Comedian; Creator of "My Drunk Kitche...

Grace Helbig

Comedian, YouTube Personality, Actress & Author

Rose McGowan

Writer, Actor, Director, Entrepreneur and Whistle-Bl...

Anita Sarkeesian

Feminist, Media Critic and Author of the Video Blog ...

Aly Raisman

Olympic Gymnast, Gold Medalist, Captain of the "Fier...

Andrea Pino

Women's & Civil Rights Activist; Founder of End Rape...

Robin Morgan

Poet, Activist & Face of Contemporary Feminism

Kate Harding

Feminist Storyteller; Author of "Asking For It"

Irin Carmon

Author, Notorious RBG, Senior Correspondent, New Yor...

Mamrie Hart

Host of the YouTube Show "You Deserve A Drink"

Tyler Oakley

YouTube Personality & New York Times Bestselling Aut...

Kelly A. Galanis

The Red-Headed Diva is Kelly A. Galanis, Professiona...

Liana Rosenman

Co-Founder & Chief Communications Officer of Project...

Charlie Alejandro

Motivational Speaker, Writer, Actress & Radio Talk S...

Emma Watson

Actress, Model & Activist; UN Women Goodwill Ambassa...

Lizz Winstead

Co-creator & Former Head Writer of "The Daily Show"

Jameela Jamil

Actress, Outspoken Feminist & Body Positivity Advocate

Amanda Nguyen

Founder of Rise & Author of the Sexual Assault Survi...

Nel Noddings

Feminist, Educationalist & Philosopher

Diane Rosenfeld

Law Professor & Director of the Gender Violence Prog...
More like Laci