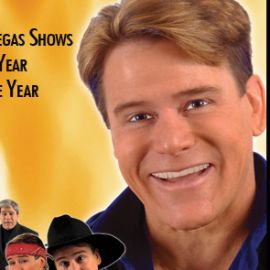 Larry G Jones "The Man of 1002 Voices"
2400 Las Vegas shows, Entertainer& Impressionist of the Year. Imagine the impact
Imagine the impact of having 75 of the worlds top superstar singers and celebrities perform live at your event. Create great memories while you relax, bond, inspire, & captivate your audience.
From Sinatra to Cher to Bill Cosby and Motown; something super fun for everyone
Transform your next event from a 'meeting' into a 'masterpiece!' Create lasting memories with Larry G Jones' multi-award winning, customized, 'Legendary Voices in Concert' show.
With a show customized for your audience, Larry will work directly with you to create the perfect blend of hit music, impersonations, and clean comedy for your corporate event. After a 10 year/2400+ Las Vegas shows run, as a corporate entertainer Larry G Jones' now creates customized shows and amazing memories at special events around the world.
While you 'could' put your neck on the line and take your chances with 'Other' entertainment that's NOT multi-award winning ( 'Entertainer of the Year' And 2x 'Impressionist of the Year') ...your audience may wish you hadn't.
Watch it NOW! Short Demo = 25 Voices in 101 seconds!
This one-man show also competed with Las Vegas' biggest productions to prove its merit with over four years as one of Tripadvisor's 'Top Five' consumer rated Vegas shows.
Each customizable experience is a fast-paced and fun filled celebration of hit music mixed with hilarious clean comedy. You will be highly entertained by an all-star celebrity cast of rapid-fire voice impressions including many of Las Vegas' biggest headliners and Billboard's greatest artists.
The Temptations, Cher, Elton John, Neil Diamond, Elvis, The Phantom of the Opera, and The Rat Pack are just a small sample of the 75 plus voices Larry performs in each show. When you throw a few famous comedians, Hollywood celebrities, and presidential voices in the mix, there is enough comedy and music to appeal to just about everyone.
Get Ready... for some fun!
Related Speakers View all
---
Richard Wyatt Hight

With over 20 years experience Richard Hight ignites ...

Sean Wise

"Dragons' Den" Advisor & Entrepreneurial Evangelist

Billy Womack

Inspiring Teens. Empowering Adults

David Croslin

Innovation - Chief Technologist-HP, Chief Product Ar...

Chester Santos - U.S. Memory Champion

Helping People to Unlock the Extraordinary Power of ...

Tara Tiger Brown

Founder, CEO at KitHub, Technologist

Chris Saad

Co-Founder of APML, DataPortability, SynapticWeb etc...

Christi Tasker

Social Media Branding Queen and Keynote Speaker

Linda Villatore

Award Winning Trainer

Brad Montgomery

Humorist, Motivational Speaker, Publisher & Author

Hutke Fields

Principal Chief of Uvcenv Cunv Uvsel at Natchez Nati...

Alec Borenstein, Esq.

Master Your Mindset Today

Denise M. Wilbanks

Contemporary thinker and visionary

Glenn Lim

Dynamic speaker focusing on motivation, personal suc...

Dr. Kevin Fleming

NY Times Cited Expert & Neuro Guru

Greg Montana

The Quantum Monk will inspire your audience to tears...

Kai Roer

Inspiring leaders worldwide!

Victoria Prestia

Public Speaker

Patricia Sadar

International Consultant, Inspirational Speaker & Le...

Craig A Nemitz

Disaster? What disaster? Are you really clueless?!?!
More like Larry