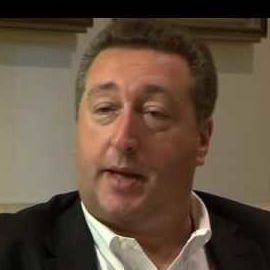 Larry Jeddeloh
Larry Jeddeloh is considered to be one of Americas best respected independent investment management professionals.
Larry Jeddeloh is considered to be one of Americas best respected independent investment management professionals.
Larry Jeddeloh constantly travels the world and has more connections and sources than anyone out there. He routinely predicts global events and trends that are scoffed at as one-in-a-million long shots by the market (and the uninformed) only to have them routinely come to pass. Larry is also a very successful money manager, so he knows how to translate his predictions into actionable ideas.
Based in Minneapolis, his 30 year tenure in the industry along with the deep network of contacts spanning multiple continents, bring unique perspective to his research. His current outlook for the US and world economy, and for the financial markets, reflects his belief that business cycles end in recessions, but credit cycles end in depressions and that we will witness further declines in the markets. In early 2007, Larry correctly predicted a significant slow-down in the US economy stemming directly from problems he was highlighting in the credit system.
Editor of The Institutional Strategist and Managing Director & Chief Investment Officer of TIS Group. He advises institutions, hedge funds and mutual funds asset allocation, geonomics and investment strategies. He is a strategic advisor to Guardian Group, a major Canadian mutual fund and sits on the advisory board of Swiss Capital Strategies, a European fund of funds. Larry has a strong international expertise and exposure and spends over one third of his time traveling, especially to Europe and the Middle East. He as particular strength of focus on oil, gold and across the spectrum of hard and soft commodities. His long-held outlook on oil (to reach US$187 a barrel) provides strong debate about the geopolitical and market implications.
He is a sought-after commentator interviewed and quoted in various international media, including the Wall Street Journal, Newsweek, Forbes, Money Magazine, Your Money, US News & World Report, Barrons and Global Finance. He regularly appears on Bloomberg and other TV business news channels. Larry makes over 300 presentations and speeches a year to both his clients and conference audiences. He presents on the US and the World economy, on China and its changing role in the global financial markets as well as the outlook for economies like Russia, Eastern Europe, Middle East and Africa. He makes special presentations to Boards and senior management in various financial institutions and regularly provides confidential briefings to groups of private family investors.
Larry founded TIS Group in 1995 and is the Editor of The Institutional Strategist, Managing Director & Chief Investment Officer. Previously he was Chief Investment Officer of Resource Capital Advisors and formerly with Union Bank of Switzerland (UBS) in Zurich as Chief Investment Strategist.
Related Speakers View all
---
Ronan Ryan

Chief Strategy Officer at IEX, Subject of Michael Le...

Jordan Goldman

Named "One of the top young entrepreneurs in America...

Jez Humble

Co-author of Continuous Delivery and Lean Enterprise...

Adam Alter

Author of "Drunk Tank Pink"

Harris H. Simmons

Chairman, President and CEO Zions Bancorporation

Tim Rutten

Marketing and Sales Manager, New Business Developmen...

Patricio Bichara

Senior Analyst ,IGNIA Partners LLC

Zachary Sternberg

Managing Partner,Spruce House Capital

Andrew Schrage

Andrew Schrage, Money Crashers Personal Finance

Ben Knelman

Founder, CEO ,Juntos Finanzas

Harold Mateo

VP of Strategy & Business Development,RSC Global Ho...

Sena Luis David

Senior Market Risk Specialist,Superintendence of Ban...

Heraldo Suero

CEO & Founder,In Crescendo

Cenk Aydin

Founder & Managing Partner Halikarnas Financial Ser...

Ryo Umezawa

Director,J-Seed Ventures, Inc.

Alan Frei

CEO & Co-Founder,Tech Entrepreneur

Georgios Kasselakis

Partner ,Openfund

Dmitry Vasilkov

Member of the Board,OilTech

Saleh Al Khulaifi

General Manager,Bedaya Center

Yamen S. Al Hajjar

Public Policy & Gov Affairs,Google
More like Larry