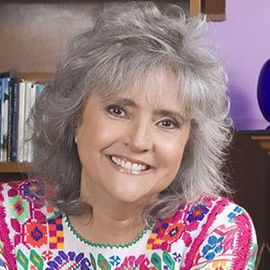 Laura Esquivel
Mexican Novelist, Essayist, and Screenwriter; Known for Bestelling Novel "Como Agua Para Chocolate"
Laura Esquivel is a Mexican novelist, essayist, and screenwriter who has made noted contributions to Latin-American literature. Her first novel, "Like Water for Chocolate," became a bestseller in Mexico and the United States, and was later developed into an award-winning film.
Born on September 30, 1950, in Mexico City, Mexico, Esquivel began writing while working as a kindergarten teacher. She wrote plays for her students and wrote children's television programs during the 1970s and 1980s. Her first novel, "Like Water for Chocolate," is an imaginative and compelling combination of novel and cookbook.
Esquivel has continued to show her creative flair and lyrical style in her later work. Accompanied by a collection of music, her second novel "The Law of Love" combined romance and science fiction. "Between the Fires" featured essays on life, love, and food. Her novel, "Malinche," explores the life of a near mythic figure in Mexican history-the woman who served as Spanish conquistador Hernán Cortés's interpreter and mistress.
In 2009, Esquivel ran as preliminary candidate of the Local Council in District XXVII of Mexico City for the PRD. In 2012, she was elected Federal Representative for the Morena Party. She has also served as head of the Mexico City Cultural Committee and member of the Science & Technology and Environmental Committees for the Morena Party.
Videos
---
Books
---