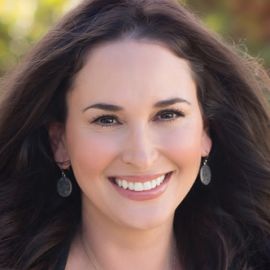 Laura Saltman
Emmy-nominated Producer & Correspondent; Expert & Coach in Mind/Body/Soul Wellness; Author of "The All of Everything"
Laura Saltman is an author, motivational speaker, intuitive guidance coach, expert in Mind/Body/Soul wellness and a TV/Digital Host who began her career in television. She is an Emmy-nominated producer and correspondent who has worked for TV shows like Access Hollywood, E! News, Today and On Air with Ryan Seacrest. She can currently be seen on Lifetime TV hosting segments for Designing Spaces and The Balancing Act. Her own channel on the Well World TV network launches in March 2019.
After her life was turned upside down when she lost her older brother to cancer, her father to suicide, suffered multiple miscarriage and a disrupted adoption followed by a shocking divorce, Laura turned to a spiritual life coach who helped turn her life around and manage her grief, anxiety and depression. Since then she has trained with spiritual life coaches, reiki masters, clairvoyants, mediums and meditation gurus all over the country.
Laura then channeled her energy into writing a series of three books, The All of Everything, The All of the All and The All That Is, aimed at helping lead others to transforming their own lives through connection to our soul side. She is currently working on her next book, Wisdom of the All, a step by step guide into Love.
She speaks to audiences both large and small across the country and uses her intuitive translator gift to bring healing messages and insights through her social platforms including her daily Wisdom of The All platform.
Videos
---
News
---
8 Things I Learned From My Brother Before He Died
LOS ANGELES, CALIF. -- While much of the world was mourning the 50th anniversary of the assassination of John F. Kennedy on Friday, I was mourning the loss of my brother, Jason, who died at age 47 from stomach cancer.
Related Speakers View all
---
Linda Ellerbee

Award-Winning Journalist & Television Producer; Brea...

Tina Marie Jones

Connecting with the audience through the style of a ...

Jessica Cox

World's First Armless Pilot & First Armless Black-Be...

Montel Williams

Emmy Award-Winning Talk Show Host Best Known For "Th...

Nastia Liukin

Olympic Gold Medal Gymnast

Shawn Johnson East

Olympic Gold Medalist in Gymnastics, "Dancing with t...

Kristie Kennedy

Women's Worth & Wellness Expert, TEDx Audacious Lead...

Deborah Norville

Two-Time Emmy Award-Winning Journalist; Anchor of "I...

Ita Buttrose

Legendary media editor, businesswoman, author and Al...

Charlie Alejandro

Motivational Speaker, Writer, Actress & Radio Talk S...

Seane Corn

International Yoga Teacher & Activist

Liz Nead

Executive Business & Life Coach

Julianne Hough

Emmy Award Winner for Outstanding Choreography, Coun...

Dominique Dawes

Olympic Gold Medal-Winning Gymnast, Former Co-Chair ...

Kate Crocco

Psychotherapist, Author, Mindset & Confidence Coach

Jonathan Sandys

Speaking on the life & leadership of my great-grandf...

Amelia Rose Earhart

President of the Fly With Amelia Foundation; One of ...

Liana Rosenman

Co-Founder & Chief Communications Officer of Project...

Amanda Lindhout

Executive Director of The Global Enrichment Foundati...

Amanda Russell

Digital Marketing & Branding Strategist, Professor ...
More like Laura