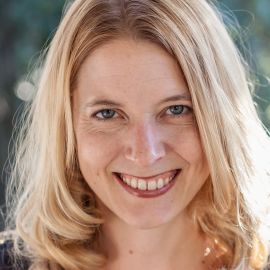 Laura Vanderkam
Author of "168 Hours: You Have More Time Than You Think" & "What the Most Successful People Do Before Breakfast"
Laura Vanderkam helps people spend more time on what matters, and less on what doesn't. Laura is the author of several time management and productivity books. Off the Clock: Feel Less Busy While Getting More Done (Portfolio, May 29, 2018) explores, through more than 900 time diaries collected on a single March day, why some busy people feel relaxed about time, while others do not. I Know How She Does It: How Successful Women Make the Most of Their Time (Portfolio, 2015) tackles the question of how women combine work and life through an analysis of 1001 days in the lives of women with demanding careers and children at home. What the Most Successful People Do Before Breakfast (Portfolio, 2013) profiles prominent people who use time creatively to achieve their goals. 168 Hours: You Have More Time Than You Think (Portfolio, 2010) argues that time is best approached from the holistic perspective of a week (168 hours) rather than any single day.
Laura is also the author of a time management fable, Juliet's School of Possibilities, published by Portfolio in early 2019. Another novel, The Cortlandt Boys, is available as an ebook.
Laura's work has appeared in publications including The New York Times, The Wall Street Journal, USA Today, City Journal, Fortune, and Fast Company.
She has appeared on numerous television programs, including The Today Show and CBS This Morning, hundreds of radio segments, and has spoken about time and productivity to audiences of all sizes. Her TED talk, "How to gain control of your free time," has been viewed more than 8 million times. She is the co-host, with Sarah Hart-Unger, of the podcast Best of Both Worlds. She hosts the every-weekday-morning podcast Before Breakfast, featuring productivity tips designed to take listeners' days from great to awesome.
She lives outside Philadelphia with her husband and four children.
Videos
---
Speech Topics
---
168 Hours: Succeeding at Work and Life, 24/7
Drawing on the themes from her time management books, Laura talks about how to manage the 168 hours we all have each week to get the most out of your professional and personal life. In addition to sharing her top 10 time management tips, Laura can work with a few audience members beforehand to tweak their schedules, and incorporate the results into her talk.
Related Speakers View all
---
David Allen

Bestselling Author & Founder of The David Allen Company

Brad Stulberg

Health & Human Performance Writer, Co-Author of "Pea...

Shawn Achor

Harvard Professor, Researcher & Positive Psychology ...

J.R. Martinez

Actor, Best-Selling Author, Motivational Speaker, Ad...

Jason Young

Former Senior-Level Manager at Southwest Airlines & ...

Robert Spector

Customer Service Expert, Bestselling Author & Creato...

Vince Poscente

Former Olympic Speed Skier, Leadership & Sales Exper...

Mark Victor Hansen

Founder & Author of Chicken Soup for the Soul Book S...

Adrian Gostick

Founder of The Culture Works & Bestselling Author of...

Dan Thurmon

Author & Peak Performance Expert

Matthew Dixon

Chief Product & Research Officer at Tethr; Author; A...

Marilyn Tam

Best-Selling Author, Consultant, Board Certified Exe...

John Foley

Former Lead Solo Pilot for the Blue Angels; Founder ...

Ryan Estis

Business Performance Expert & Agent of Change

Simon T. Bailey

Speaker, Author, Life Coach & Entrepreneur

Bill Rancic

"The Apprentice" Winner; Entrepreneur; Star of "Giul...

Neal Petersen

History-Making Extreme Adventurer, Award-Winning Aut...

Dean Lindsay

Sales & Service Culture Consultant and Founder of Th...

Patrick Lencioni

Management Consultant; Founder & President of The Ta...

Dr. Jackie Freiberg

Corporate Culture & Leadership Strategist, Best-Sell...
More like Laura