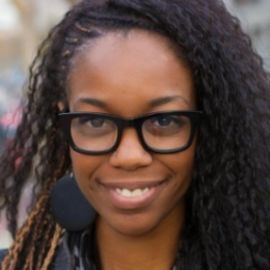 Lauren Lyons is a certfication engineering lead for the International Space Station certification of Dragon 2 for NASA's Commercial Crew Program at SpaceX.
Lyons recently completed her Masters degree in Public Policy at the Harvard Kennedy School of Government where she studied Science and Technology Policy, and wrote her capstone exercise on reframing NASA's public engagement challenge using Adaptive Leadership frameworks. She is also graduate of Princeton University, where she earned her bachelors degree in Mechanical & Aerospace Engineering, a certificate/minor in Engineering Biology, and spent three summers as an engineer at NASA's Jet Propulsion Laboratory working on the Mars Exploration Rovers and MSL-Curiosity missions.
Lauren currently works as a science communicator and writer where she helps organizations make their stories and discoveries more accessible to the general public; she researches Space exploration public outreach with the purpose of driving civic action; and she trains scientists and engineers to become better technical communicators and public speakers.
Videos
---