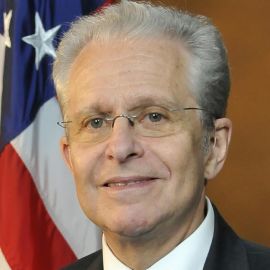 Laurence H. Tribe, the Carl M. Loeb University Professor and Professor of Constitutional Law at Harvard, has taught at its Law School since 1968 and was voted the best professor by the graduating class of 2000. The title "University Professor" is Harvard's highest academic honor, awarded to just a handful of professors at any given time and to just 68 professors in all of Harvard University's history.
Born in China to Russian Jewish parents, Tribe entered Harvard in 1958 at 16; graduated summa cum laude in Mathematics (1962) and magna cum laude in Law (1966); clerked for the California and U.S. Supreme Courts (1966-68); received tenure at 30; was elected to the American Academy of Arts and Sciences at 38 and to the American Philosophical Society in 2010; helped write the constitutions of South Africa, the Czech Republic, and the Marshall Islands; has received eleven honorary degrees, most recently a degree honoris causa from the Government of Mexico in March 2011 that was never before awarded to an American and an honorary D. Litt. From Columbia University; has prevailed in three-fifths of the many appellate cases he has argued (including 35 in the U.S. Supreme Court); was appointed in 2010 by President Obama and Attorney General Holder to serve as the first Senior Counselor for Access to Justice; and has written 115 books and articles, including his treatise, American Constitutional Law, cited more than any other legal text since 1950.
Related Speakers View all
---
Sir Richard Branson

Businessman & Founder of Virgin Group

Stephen Breyer

Associate Justice of the Supreme Court of the United...

Cody Adams

Managing Editor of The Floating University.

Dr. Anthony Fauci

Director of the National Institute of Allergy and In...

Mitt Romney

Former Governor of Massachusetts, 2012 Republican Pr...

Parag Khanna

Leading Geo-Strategist & Author

Kenneth Roth

Executive Director, Human Rights Watch

Andrew Cohen

Founder, EnlightenNext

Ambassador Dennis Ross

Author, Counselor & William Davidson Distinguished F...

Jimmy Carter

Former United States President (1977-1981), Author

Ingrid Newkirk

President, PETA

An Phung

Multimedia Journalist

Brian Hoffstein

Contributing Writer

Tom Stewart

Editor, Harvard Business Review

Gerry Adams

President, Sinn Fein

Calvin Trillin

Author, Columnist, Humorist & Political Satirist

Van Jones

CEO of REFORM Alliance, CNN host, Emmy Award-winning...

Stephen Walt

Prof. of Intl. Affairs, Harvard University

Robert Menendez

U.S. Senator, (D) New Jersey

Jeffrey Israel

Jeffrey Israel has taught religion and political phi...
More like Laurence