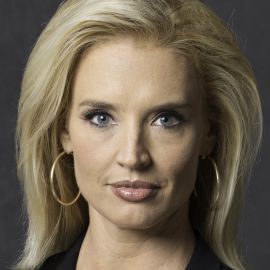 Veteran news anchor Laurie Dhue is a New York-based TV broadcaster and media strategist. She is a news anchor and host of the investigative program For the Record on TheBlaze TV. Dhue is the Founder and President of her own consultancy, Laurie Dhue Media. Dhue is the only anchor to have hosted shows on the three primary cable news networks: CNN, MSNBC and Fox News Channel. Dhue spent nearly eight years at Fox News, where she hosted the highly-rated Fox Report weekend edition and appeared weekly on The O'Reilly Factor and Geraldo at Large. During her tenure at Fox News, Dhue reported extensively from the Middle East. Before joining Fox News Channel, Dhue hosted several shows on MSNBC and served as substitute news anchor on NBC's Weekend Today Show. Dhue began her broadcasting career at CNN, where she became one of the youngest full-time anchors in the network's history.
In her 23-year career, Dhue has interviewed countless international leaders as well as politicians, celebrities and newsmakers. She has covered every major news event since the early 1990s as a writer, producer, reporter and anchor. She has moderated discussions on a wide variety of foreign and domestic topics, including a panel at the United Nations, and has given speeches at numerous symposiums and universities.
A person in long-term recovery from alcoholism, Dhue has worked with the White House Office of National Drug Control Policy (ONDCP). She is also a member of the Caron Foundation's New York Advisory Board and the board of the National Youth Recovery Foundation. Dhue travels from coast-to-coast as a recovery advocate, giving speeches, moderating discussions and hosting events on behalf of recovery organizations such as Faces and Voices of Recovery (FAVOR), Caron, Hazelden and The Betty Ford Center just to name a few.
Dhue received her BA in Political Science from the University of North Carolina at Chapel Hill, where she was an Academic All-American Varsity Swimmer.
Speech Topics
---
You Have to Surrender to Win: Climbing Your Way Out of Rock Bottom
From the heights of broadcaster stardom to the depths of despair in her darkest periods of alcoholism, speaker Laurie Dhue shares her courageous story of getting - and staying - clean. In this inspirational speech, Dhue offers insight into the battle of addiction and how she finally found her path out of the disease that would have eventually killed her. Through her brave and passionate story, she shows audiences that through failure comes humility - and ultimately triumph.
Addiction as a Modern Health Crisis
Every 14 seconds, someone dies from one of the biggest healthcare issues in this country: addiction. America loses half-a-trillion dollars every year in lost wages, lost productivity, hospitalization, institutionalization, and incarceration due to the epidemic of addiction and the lives it destroys. In this speech, recovering alcoholic and speaker Laurie Dhue reveals how much drug and alcohol abuse is damaging this country and what can - and should - be done to battle this modern health crisis.
Related Speakers View all
---
Jason Wahler

TV Personality, Known for "Laguna Beach" "The Hills"...

Mackenzie Phillips

Actress, Singer & Author of "High on Arrival: A Mem...

Tony Hoffman

Pro BMX Competitor & Recovering Addict

Steve Ford

Actor & Son of President Gerald Ford

Todd Marinovich

Former NFL Quarterback for the Los Angeles Raiders

Joani Gammill

Expert on Alcoholism & Addiction

Thomas Henderson

Former Dallas Cowboys Linebacker; Drug & Alcohol Add...

Pinklon Thomas

Motivational Speaker & Two-Time Former Heavy Weight ...

Chris Herren

Former NBA Player & Speaker on Substance Abuse Disor...

Ryan Leaf

Former NFL Player; ESPN College Football Analyst; Re...

Maurice Clarett

College Football National Champion, Philanthropist &...

Jodie Sweetin

Entrepreneur, Actress, Producer & Author

Rich Roll

Athlete, Wellness Advocate, Motivational Speaker, Ad...

Judy Collins

Legendary Folk Singer & Activist

Marti MacGibbon

Humorous Inspirational Speaker, Certified Mental Hea...

Lorna Luft

Entertainer & Author of "Me and My Shadows: A Family...

Ed Begley Jr.

Environmental Activist & Emmy Award-Nominated Actor

Majora Carter

Real Estate Developer, Peabody Award-Winning Broadca...

Tina Marie Jones

Connecting with the audience through the style of a ...

Elizabeth Vargas

Emmy Award-Winning Journalist; Best-Selling Author; ...
More like Laurie