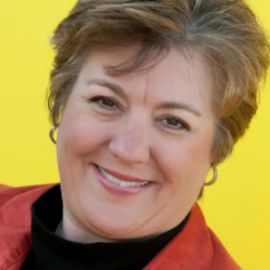 Laurie Guest
Laurie Guest, CSP, is an event speaker known for her imaginative ideas and fast-paced, entertaining style.
She is a Certified Speaking Professional, a designation held by less than 10% of speakers worldwide.
Her business experience includes over 20 years in healthcare. As an assistant practice administrator, she helped a multi-million dollar medical center become a regional leader of ophthalmic surgery. Her experience with direct patient care, as well as a role in management is what makes Laurie a favorite speaker among healthcare audiences.
Laurie is a published author and a member of the National Speakers Association. She speaks nationwide on topics that tackle today's business needs. Her client list includes healthcare, education, banking, and a wide variety of associations.
Speech Topics
---
Life in the Espresso Lane
With a mix of fun and wisdom, Laurie shares seven behaviors that can change your accelerated life. In this humorous program, you'll learn how to manage your mental caffeine and find contentment even during stressful times. Enjoy a fast-paced session that sends many attendees home with a token gift and fun for all!
Learn how to build rapport with anyone
Discover four words to improve your life
Grab a cup of G.U.T.S.Y. to go
Reset your life operating system and decrease your stress level
Humorous interactive keynote Designed to set the tone of the meeting, build energy and enthusiasm Key points can be customized to meeting program objectives Best length: 45-90 minutes
Are We Having Fun Yet? Shake your attitude in the workplace
Is the workplace draining your energy? Do you wish for more fun on the job? Are you ready to improve your relationship with co-workers? Are you hoping to attract the attention of more customers? If you answered YES, then this dynamic program is a perfect match for you. Too often our busy, stressful days keep us from really enjoying our journey. Laurie shares simple ideas to improve your outlook toward the daily challenge of work and improve your internal work culture. All attendees will have the chance to win cash and prizes, so bring your attitude and let's shake it up!
Team competition that teaches in a fun environment
Breaking through the four biggest workplace challenges
Learning to communicate better with others
Reboot process to help staff better engage with customers
Original interactive game included in the program, can be customized This program is a perfect match for small group discussion with lots of interaction between audience and presenter. Best length: 90 min – 3 hours
Managing the Red Carpet: Showbusiness Guide to Customer Service
Discover ways to create red carpet service for your customers and gather award-winning ideas to achieve your business objectives. During this exceptionally creative session, the audience views famous movie moments, linking the message to real-life situations. Attendees will find a practical program packed with action steps that will energize their customer service and connect them with your customers.
Identify misleading silent signals
Determine your E-Zone levels
Learn 8 taboo words to remove from your vocabulary
Invent a showtime culture
Customer service program Designed as an 'edutainment' session with perfect blend of fun and content Fee includes license fee for film clips Best length: 90 min - 2 hours
I Want to See the Jalapeno Coming: Hot Recipe to Attract and Keep New Customers
Superior customer service as a result of paying attention to the small details is what separates the outstanding company from the average business. This session teaches the "R-Formula Recipe" to attract and keep new customers regardless of the product or service. Find out how your business scores on the "Jalapeno Report Card" and learn the concrete actions you can take to raise your grade.
Four stages of a customer's buying cycle
Specific team actions to move customer through the cycle
Enhance your creative thinking and selling
Learn how to manage the 'fork in the road' that every customer faces
Sales and marketing program
There are many additional service options available with this program including secret shopping the organization in advance followed by a confidential report on the service outcomes with recommendation for improvements.
Best length: 90 min or more, excellent for half-day workshop to achieve in-depth content
Swizzle Stick Strategy: 5 Ways to Stir Up New Business
During this idea packed session Laurie Guest shares the five best questions to stir up your thinking and attract new business. Mix as many ideas as you need in order to refocus your sales and customer service approach. Now is the time to evaluate your plan and energize your business.
Get to the outer rings of the target to stir it up
Blast assumptions
Develop a club mentality
Repackage and rename to increase profits
Very interactive Improvements made on the spot Fast-moving & content rich Best length: 1 hour or more
Influential Communication: Words that get results
Right words said at the right time produce results in all aspects of your life. This content-rich program teaches how to overhaul current communication styles and rebuild with strength. The tools provided will restore teams, develop better leaders and most of all help individuals build better communication skills.
Learn how to deliver difficult messages
Mold communication to serve client better
Techniques to bring work teams together
Interactive
Practical tools for immediate use
A Special version is available for aspiring leaders or middle management.
Best length: 1 hour or more
Related Speakers View all
---
Mark Mayfield

Corporate Motivator & Inductee to the Speaker Hall o...

Amanda Gore

CEO, The Joy Project; Hall of Fame Motivational Spea...

Juliet Funt

Founder, Owner & CEO of WhiteSpace at Work

Christine Cashen

Hall of Fame Motivational Speaker; Author of "The Go...

Lisa Wessan

Creating a space for Grace...

Jeff Tobe

Customer Experience Expert

Arnold Sanow

Nationally Renowned Business, Communications & Peopl...

Karen S. McCullough

Multi-Generational Workplace Expert

Dale Irvin

The World's Only Professional "Summarizer," Humorist...

David McLauren Ph.D.

Increase profit and productivity through diversity. ...

Christine Clifford

Bestselling Author, Professional Speaker & Breast Ca...

Debra Peppers

Emmy Award-Winning TV Host; Motivational Speaker and...

Tami Evans

Employee Engagement & Levity Leadership Expert

Brenda Elsagher

A Keynote National Speaker,Author and Comedian all r...

Bernadette T. Vadurro

Increase YOUR productivity, performance and bottom l...

April Callis

Featured in Time Magazine, April Callis is an energe...

Patrick Galvin
Brad Montgomery

Humorist, Motivational Speaker, Publisher & Author

James D. Feldman, CSP, CITE, CPIM, CPT

Jim is a Innovation and Meaningful Memories Customer...

Conor Cunneen

James Joyce meets Tom Peters- Substance with Humor
More like Laurie