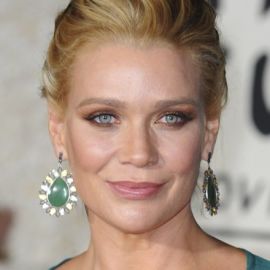 Heather Laurie Holden is an American-Canadian actress and human rights activist. The stepdaughter of veteran film director Michael Anderson, Holden traveled the world with her family growing up on various locations and got her first break as Rock Hudson's daughter in Ray Bradbury's "The Martian Chronicles" (1980). Holden was raised in Canada, spent her freshman year at McGill University, then transferred to UCLA to do a BA in Theatre Arts, where she received the prestigious Natalie Wood Acting Award. She later enrolled at Columbia University to acquire her Master of Human Rights degree.
Holden has starred in numerous television and film projects and has received worldwide critical acclaim and honorable recognition for her diverse and eclectic choice of roles. Her most notable roles include starring opposite Jim Carrey in Frank Darabont's film "The Majestic." Her memorable roles are in hits such as "Fantastic Four" (where she played Michael Chiklis' love interest), playing cult hero Cybil Bennett in Christophe Gans' artistic-horror video game adaptation of "Silent Hill," and co-starring as Amanda Dumfries opposite Marcia Gay Harden and Thomas Jane in Stephen King's "The Mist." Holden recently starred as Olivia Murray in FX's critically acclaimed series "The Shield" and starred as Andrea AMC's critically acclaimed "The Walking Dead," based on the graphic novel. In 2018, Holden joined the crime thriller "Dragged Across Concrete," starring Mel Gibson and Vince Vaughn, and is in the cast of the American legal drama television series "Proven Innocent," which premiered in 2019 on Fox.
Holden is also a passionate human rights activist. She is a founding board member of the Canadian Somaly Mam Foundation, which campaigns against human trafficking, and an advisory board member of the Somaly Mam Foundation in the U.S. In 2014, Holden worked with Operation Underground Railroad, a volunteer organization that aims to hunt down and arrest child sex traffickers. The group aided authorities in Cartagena, Colombia, in breaking up a sex-trafficking ring that used drugs to force underage boys and girls into prostitution. The operation resulted in the arrests of 12 people and the rescue of 55 sex-trafficking victims, one just 11 years old. She also works with the nonprofit Home From Home, which helps children living with HIV.