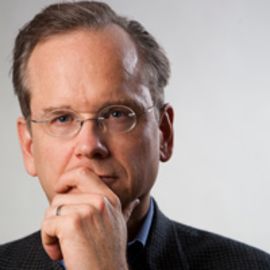 Lawrence Lessig
Director, Edmond J. Safra Center for Ethics, Harvard University; Professor of Law, Harvard Law School
Lawrence Lessig is the Roy L. Furman Professor of Law and Leadership at Harvard Law School, director of Harvard's Edmond J. Safra Center for Ethics, and founder of Rootstrikers. As a professor at Stanford Law School, Lessig founded the school's Center for Internet and Society. He has authored numerous books, including Republic, Lost and Free Culture. Lessig's board service includes Creative Commons, AXA Research Fund, iCommons.org, the Sunlight Foundation, the Better Future Project, and Democracy Café. He has received the Free Software Foundation's Freedom Award, Fastcase 50 Award, and was named one of Scientific American's Top 50 Visionaries.
Speech Topics
---
We the People Must Fix America's Corruption
Corruption is at the heart of American politics, caused by the influence of money. Larry Lessig believes this is the most urgent issue we face as a nation – but recognizes that the dynamic of this sort of corruption is broader than Congress. It is the root problem that makes solving others so difficult. Think doctors taking money from drug companies; academics taking money to give public testimony. U.S. institutions as a whole have lost their way – lost effectiveness and the public's trust. We, the people, must force lasting change on America's broken system.
The Oxymoron of Internet Privacy
The Internet revolution has come. Some say it has gone. Larry Lessig – who has spent 10 years calling for an overhaul of the copyright systems, which he asserts does not and never will make sense in the digital world – explains how it has produced a counterrevolution of potentially devastating power and effect. Creativity once flourished because the Net protected a commons on which widest range of innovators could experiment. But now, corporations have established themselves as virtual gatekeepers while Congress has rewritten copyright and patent laws to stifle creativity and progress. Lessig also talks about the oxymoron of Internet privacy. The solution, he says, lies in building an "identity layer" into the Internet, which would recreate the idea of Internet privacy, enabling more privacy and more security. With starkly different visions for the Internet continuing to develop, this era presents challenges – and opportunities – for those who wish to ensure the Internet remains a backbone of liberty and economic growth.
Related Speakers View all
---
Richard Florida

Leading Urbanist, Economist & Author of "The Rise of...

Matthew Bishop

Managing director, Rockefeller Foundation and Former...

Eric Schmidt

Former Executive Chairman at Alphabet Inc. & Former ...

Andrea Mitchell

Award-Winning Chief Foreign Affairs Correspondent at...

Jonathan Haidt

Professor of Ethical Leadership at New York Universi...

Tim O'Reilly

Founder and CEO, O'Reilly Media

Seth Berkley

CEO of Gavi, the Vaccine Alliance; Medical Doctor Sp...

Anna Deavere Smith

Award-Winning Actress, Playwright, Social Commentator

Paola Antonelli

Senior Curator at the Museum of Modern Art in the De...

David Agus

Professor of Medicine and Engineering at the Univers...

Jeffrey Rosen

President & CEO of the National Constitution Center ...

Bill Gates

Co-Founder of Microsoft; Co-Chair of the Bill & Meli...

Nicholas Burns

Professor of the Practice of Diplomacy & Internation...

Tiffany Shlain

Emmy-Nominated Filmmaker & Founder of the Webby Awards

Vijay V. Vaitheeswaran

Global Correspondent, The Economist; Author, Speaker...

Reid Hoffman

Co-Founder & Former Executive Chairman of LinkedIn; ...

Jerry Murdock

Managing Director and Co-founder, Insight Venture Pa...

David Kirkpatrick

Best-Selling Author of The Facebook Effect, Technolo...

Gary Hamel

Internationally Renowned Expert on Business Strategy...

Dan Ariely

Behavioral Economist; Professor at Duke University; ...
More like Lawrence