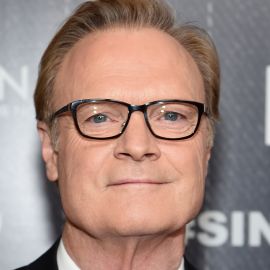 Lawrence O'Donnell brings his extraordinary background in politics, entertainment and news as host of the "The Last Word with Lawrence O'Donnell," an MSNBC opinion and news program, airing weeknights.
O'Donnell was an MSNBC political analyst since the network's launch in 1996 and had previously appeared as a frequent guest host on MSNBC's primetime programs, weighing in on the headlines and what's behind them.
As a political commentator, O'Donnell has a history of hard-edged comments and controversial statements for which he has had to issue retractions.
Prior to joining MSNBC, O'Donnell was an Emmy Award-winning executive producer and writer for the NBC series "The West Wing," where he brought real life experiences from the world of politics. He also appeared as a recurring character on the HBO series, "Big Love."
His political background includes serving as Senior Advisor to Sen. Daniel Patrick Moynihan, Chief of Staff to the Senate Committee on the Environment and Public Works, and Chief of Staff of the Senate Finance Committee.
A writer prior to entering politics and government, O'Donnell was a political columnist for New York magazine and has written essays and articles for several publications including The New York Times, Washington Post, Los Angeles Times, People, Spy, and Boston Magazine. He is also the author of the book Deadly Force.
O'Donnell has also appeared on NBC News' "Nightly News," "Today," "Good Morning America," "Nightline," "Charlie Rose," and several other programs.
Videos
---
Speech Topics
---
The Last Word on Today's Headlines with Lawrence ODonnell
As host of his own nightly MSNBC show, Lawrence O'Donnell brings a unique background in politics, entertainment and news to millions.
Audiences can always count on O'Donnell to cut through the rhetoric and to deliver blunt and straightforward analysis of the important issues and compelling news stories of the day.
Sure to spark lively debate and thought-provoking discussion wherever he speaks, O'Donnell brings his unvarnished perspective to a variety of groups nationwide.
Now What? The Political Realities of Health Care Reform
Politics in America and Around the World
A Look at the Obama Administration and the 2012 Elections
Related Speakers View all
---
Laura Ingraham

Political Commentator, Television Host & Journalist

Ben Stein

Political Economist, Commentator, Author & Actor

Katty Kay

Anchor on BBC World News America; Co-Author of "Wome...

Anderson Cooper

Journalist, TV Personality, Anchor of CNN's "Anderso...

Ambassador Susan Rice

United States National Security Advisor (2013-2017),...

Bob Woodward

Legendary Pulitzer Prize-winning Journalist/Author a...

Joy-Ann Reid

MSNBC Correspondent, Political Author & Former Host ...

Meghan McCain

Co-Host of "The View," Political Columnist, Author &...

Barney Frank

U.S. Congressman (1981-2012); Chairman, House Financ...

Juan Williams

New York Times Best-Selling Author, Fox News Politic...

Mike Huckabee

Politician, Former Governor of Arkansas & Host of TB...

Van Jones

CNN Political Contributor; Author; Human Rights, Edu...

Eleanor Clift

Author; Washington Correspondent & The Daily Beast C...

Ian Bremmer

Political Scientist, Author, Entrepreneur, Lecturer

Angela Rye

Attorney, Principal & CEO of IMPACT Strategies, CNN ...

S.E. Cupp

Conservative Columnist, Best-Selling Author & CNN Co...

Maureen Dowd

Pulitzer Prize-Winning Columnist for The New York Ti...

Donna Brazile

Veteran Political Strategist, Bestselling Author, Fo...

Carl Bernstein

Pulitzer Prize-Winning Journalist, Author & Politica...

Don Lemon

Emmy Award-Winning News Anchor & Journalist; Current...
More like Lawrence