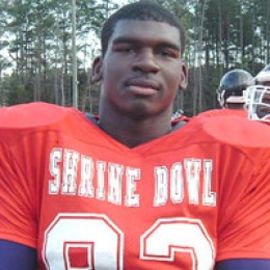 Lawrence Timmons
A few famous people were born and/or raised in Florence, including Lawerence Olajuwon Timmons, linebacker for the Pittsburgh Steelers, was born and raised in Florence.
Senior Year (2006): Strongside linebacker who started all 12 games for Florida State and was named AP All-ACC honorable mention and second team All-ACC by Rivals.com...11th in the nation with 18 tackles for loss and led the team in pass break-ups and sacks...enters the Emerald Bowl as the starter on the strong side in FSU's 4-3 defense...recorded multiple tackles in every game this season and had a tackle for loss in 10 of Florida State's 12 games...now has eight career sacks, 22.5 tackles for loss and six pass break-ups.
At Florida State: Junior who takes over for first round pick Ernie Sims as the starter at strongside linebacker...rated the No. 9 overall linebacker in the country by ESPN's Todd McShay...a preseason Street & Smith's honorable mention All-American...named the Hines-man Award winner as the most dominant overall player this spring along with tailback Antone Smith...also named the defensive MVP and the defense's "big hitter" of the spring...defensive coordinator Mickey Andrews brought out the "hit stick" usually reserved for games in the fall and presented it to Timmons midway through the spring for his physical play...saw action in all 13 games in 2005 and ranked second on the team for tackles among players not in the starting lineup (35)...blocked two punts, forced two fumbles, recovered a fumble, recorded three sacks and has six quarterback hurries last season...totaled a career-high eight tackles with two sacks in the 2005 ACC Championship game.
Sophomore Year (2005): Spent most of the season as the No. 2 strongside linebacker behind Ernie Sims...also played some defensive end in third down situations and was a very effective pass rusher...played in all 13 games, both at linebacker and on special teams...size and speed made him almost unblockable as a gunner on the punt team...had a career game in helping FSU win the ACC Championship when he recorded eight tackles, six solo, two quarterback sacks and two QB hurries against Virginia Tech...totaled two tackles and a sack in the Orange Bowl against Penn State...gained even more valuable experience during spring drills in 2005 when he was moved to the first-team linebacker spot when Sims went down with an injury...earned the top newcomer award on defense as voted on by the coaching staff following spring practice in 2005.
Freshman Year (2004): Played in all 12 games including the Seminoles' Gator Bowl victory over West Virginia...was one of only 10 true freshmen to earn playing time for Florida State during the season...recorded 12 tackles with at least one tackle coming in eight of the 12 games in which he played...quickly finds the ball carrier with 11 of his 12 tackles coming as unassisted stops...second among the Seminole freshmen with his 12 tackles...had a season-high three tackles against UAB and two tackles against both Syracuse and Virginia...recorded his first career tackle for loss in the Seminoles' victory over Virginia.
High School: Graduated from Wilson High School in 2004...a three-star player and the No. 4 rated outside linebacker in the nation as a senior by Rivals.com...named to the SuperPrep Elite 50 team...a member of the PrepStar Top 100 Dream Team...named the Defensive Player of the Year and the top prep prospect in the state of South Carolina his senior season...earned all-state first-team honors as a senior after amassing over 150 tackles and two sacks...also caught 47 passes for over 800 yards and five touchdowns as a senior tight end...earned all-state honors as a junior tight end with 42 catches for 680 yards and 14 touchdowns...recorded 95 tackles and four sacks as a senior linebacker...played in the 2003 Shrine Bowl of the Carolinas that pitted the high school all-stars from North Carolina and the all-stars from South Carolina...timed at 4.60 in the 40...selected Florida State over Florida, Tennessee, North Carolina and Georgia.
Personal: Born May 14, 1986...a social science major.