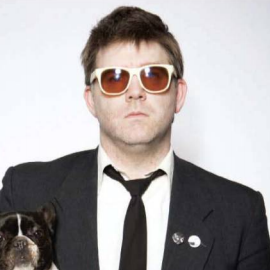 LCD Soundsystem
The King of Disco-Punk. The Godfather of the Remix. The Supreme Eminent Archon of Dance.
The King of Disco-Punk. The Godfather of the Remix. The Supreme Eminent Archon of Dance. I don't know who any of these people are actually, but I bet they would all agree DFA Records' James Murphy is some pretty hot shit. That's right: if there's one thing you need to know upfront, it's that James Murphy is possibly the most beautiful man to have ever lived.
But how does such a beautiful man become a musical genius on par with Beethoven, Bach, and early Jethro Tull? Well, just like these famous musicians, James was born in Princeton Junction, New Jersey, a city whose residents have historically all scored an 8 or higher on the Hot-or-Not website. Murphy's musical journey began when he started teaching himself piano at age 4. By age 6 he was giving lessons, and by age 19 he had finally learned how to plug in his keyboard without getting electrocuted. At his first shows James covered "Janie Jones" and "I Ran (So Far Away)" with a bunch of kiddie punk and new wave bands until he moved to New York City in 1989, and soon added to his repertoire an ironic cover of Mahler's Ninth Symphony. The first record Murphy ever bought was a seven-inch of Bowie's "Fame"; the second record Murphy ever bought is pretty embarrassing, and I have been instructed not to tell you what it was.
I know what you're thinking now. Wasn't James a punk rock drummer at some point? Didn't he form Pony in 1992 or so? Didn't he release a ton of Pony records on Homestead, break up the band in 1995, then form Speedking like, immediately? Wasn't James the first musician ever to switch from playing guitar and singing lead vocals to playing drums and just being a solid dude? Of course all of this true – but why are you asking me? Clearly you already know all this from Google-ing "James Murphy" on the web, or from Google-ing "J-Dawg Ladyface", Murphy's secret hip- hop alias.
This is what Google forgot to tell you: Speedking ran out of steam by 1996 or 1997, so Murphy pulled its plug, put down his drumsticks, and picked up a bass guitar. Then things started to get crazy, because right around then Murphy teamed up with drummer friend Pat Mahoney, who had just finished his stint with Les Savy Fav. In the tradition of Kid-n-Play, Baby MC & Father MC, and those art installations in SoHo where two identical holograms of George Plimpton perform magic tricks, Murphy and Mahoney played house parties under the name "LCD" wherever and whenever someone was throwing down. Interestingly, LCD never played any LSD parties, but the two did play the annual LED party at Alpha Iota Rhobot, an electronics fraternity at Caltech.
You can see that I am leading up to that critical moment when James decides to found Death From Above Records – the DFA – the greatest production company in the history of Western music. Before we get to that though, James had to learn how to be a producer. You wouldn't believe it from his dark sunglasses and five-day stubble, but James Murphy can be a recluse sometimes. In 1985 he got his hands on a four-track recorder, some mics and a drum machine, and began producing himself at home, as a way to avoid people. When he moved to NYC, he used the same equipment to record bands in their own practice spaces, this time as a way to avoid hunger. James realized after a visit to a "professional studio" with Pony in 1993 that he hated professional studios. Luckily, two men named Weston and Albini, the Penn and Teller of Rock Production, were happy to teach James how to set up his own studio and how to record, and in 1993, Brooklyn's Plantain Studios was born.
After his studio got booted out of its building by an Israeli mafia landlord in 1995, Plantain went on hiatus, and James honed his knobbery with producer Nicolas Vernhes at the Rare Book Room (later to produce Black Dice, Fischerspooner and the Fiery Furnaces). James left all his gear at Parlour Studios in Providence where he had recorded Six Finger Satellite's swansong Law Of Ruins, but by the time Tim Goldsworthy came over the pond with David Holmes to make "Bow Down To The Exit Sign" in 1999, he got it all back and rebuilt the studio in Manhattan's West Village, where a good friend had just bought a building. Plantain Recording House found its second home, Murphy and Goldsworthy struck up a unique partnership and the DFA was born soon thereafter, Mutual friend Jonathan Galkin quit his day job to run the label and studio, and the rest, as they say, is secret. And history.
It's almost ridiculous to spell out the hit parade of great records and remixes the DFA are responsible for: the Juan MacLean twelve-inches, the genre-defining single "House of Jealous Lovers" single and album Echoes for the Rapture, the super-secret Muzik and Colette mix CDs, the UNKLE, Le Tigre, Metro Area, Radio 4, Pixeltan and N.E.R.D. remixes that find themselves on seemingly every other compilation released, and even a Britney Spears collaboration that will never see the light of day.
All of these are fantastic, but James' LCD Soundsystem releases – the punk seven-inch "Give It Up" the twelve-inch double-dose of hipster send-ups, "Losing My Edge" and "Yeah", and now, finally, the self-titled debut double-LP (one CD of brand new material and one CD of all the prior singles) – are the ones that seem to embody James Murphy and the DFA most completely: his sense of humor, his half-smirking attitude to the industry, his remarkable variety of style, his refusal of schtick, and most of all, his love-hate relationship with reality television.
Take "Daft Punk Is Playing My House", a musical appendix to LCD's "Losing My Edge": is there any man in the WORLD who could pull off a gigantic AC/DC riff AND hipster-wimpy lyrics about robots in the very same song? Is there any man in the world who could actually be subtle about it too? Maybe Franklin Delano Roosevelt...on Mars!
Not convinced that LCD Soundsystem is the most important band of this millennium? Put on "Too Much Love", their zombified graveyard-smashing monster mash with more self-restraint than a ballerina in the Godiva store, or "On Repeat", a nerdy Moroder cover turned Slitsy space oddity that's sexier than the Slits, Moroder and Bowie dream-riffing with the Texas Tech marching band, or even "Disco Infiltrator", the genius funk song Stevie Wonder would make if he wasn't so damn blind all the time.
Dance band doing dance songs – big fucking deal, right? The thing is, not only can LCD belt out total-energy-thing nose-bleedy clubbernauts better than laptop guys and skinny ties – they can rock harder than any band out there too. "Movement" picks up where late 60s garage rock should have left off, this time with more handclaps, cooler synthesizers, louder explosions, better beer, and fatter guys in t-shirts doing all the singing. When the band plays "Movement" live, at least five people have to go to the hospital from punching themselves in the face – it's that
intense.
Meanwhile "Never As Tired As When I'm Waking Up" is the best rock and roll ballad ever written, drenched with lovely fuzz, crackly falsetto, and James' bittersweet naivete. The song has a great story too: after the Rapture had finished recording "Open Up Your Heart" for Echoes, James stuck around the studio through the night, wrote all the parts for "Never As Tired", sang the lyrics, played all the instruments, and recorded and mixed the song, then gave Jonathan Galkin a CD-R the next morning, upon his arrival to work. James went to bed. Jonathan listened to the track all day, elated and stunned. Let's say it: Louis Armstrong was a genius, but even he couldn't pull that off.
An ode to Brian Eno, "Great Release" concludes LCD Soundsystem's debut full-length with all the pomp and majesty it deserves. This is a fantastic album – one big "Yeah" – subtle, energized, silly, backhanded, meticulous, and off-the-cuff in all the ways the best rock albums and best dance tracks manage to be. James wouldn't let this album be anything but top-notch, and that's what we get here – even if "LCD Soundsystem" is sort of a shitty band name.
Videos
---
Related Speakers View all
---
Portugal. The Man

Rock Band Known for Singles Like "People Say" and "S...

Bruno Mars

Grammy Award-winning Singer-Songwriter & Record Prod...

Coldplay

Coldplay never intended to become England's favorite...

Bob Dylan

Legendary Singer-Songwriter and Entertainer; Known f...

Queens of the Stone Age

Rock Band from Palm Desert, CA

Foo Fighters

One Of The Longest Lasting Bands to Emerge From the ...

ZOX

It's so cool to see how far Zox Straps has come even...

Zebrahead

Zebrahead spent summer 2006 on the Warped Tour while...

WOMEN

Women haven't always had an easy time achieving grea...

Wolf Parade

It's the name of Wolf Parade's third LP, out June 29...

Willy Mason

Willy Mason (born November 21, 1984) is an American ...

Ween

Ween is an American experimental rock group formed i...

We Were Promised Jetpacks

Scottish Indie Rock Band Known for Singles Like "Qui...

The Wallflowers

American Rock Band

VHS or BETA

VHS or Beta is a house/disco band that infuses eleme...

The Whigs

With their new album Enjoy The Company, The Whigs ha...

The Virgins

The Virgins are an American band formed in 2006 in N...

The Stills

The Stills only bore scant similarities to Interpol,...

The Soft Pack

For a band whose lineup has only really been cemente...

The Honey Brothers

The Honey Brothers like to tell people they formed o...
More like LCD