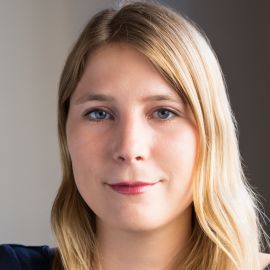 Lea Von Bidder is the Cofounder and President of Ava Science, a company that is working to make the first fertility tracking sensor bracelet. For her dedication to bringing women's health to the 21st century, Bidder was recognized as a Forbes 30 Under 30 honoree in healthcare.
Before her work with Ava Science, Bidder was the Cofounder and COO of L'inouï Chocolates Private Limited.
She has earned Master's degrees in global entrepreneurship from EM Lyon, Zhejiang University, and Purdue Krannert University. Bidder also received a Bachelor's degree from the University of St.Gallen and HEC Montréal.
Related Speakers View all
---
Cathy Tie

Forbes 30 Under 30 in Healthcare; Cofounder, Ranomics

R. Danae Vachata

Forbes 30 Under 30 in Healthcare; Cofounder, Dynamic...

Kevin Eisenfrats

Forbes 30 Under 30 in Healthcare; Cofounder, Contraline

Giffin Daughtridge

Forbes 30 Under 30 in Healthcare; Cofounder, UrSure

Abby Cohen

Forbes 30 Under 30 in Healthcare; Cofounder, Sparo

Waleed Asif

Forbes 30 Under 30 in Healthcare; Cofounder, NexHealth

Ivonna Dumanyan

Forbes 30 Under 30 in Healthcare; Cofounder, Fathom AI

Dr. Joel Selanikio

Award-Winning Physician, Health & Technology Activis...

Esther Dyson

Executive Founder of Way to Wellville

Alexei Mlodinow

Co-Founder of Surgical Innovation Associates

Siddarth Satish

Forbes 30 Under 30 in Healthcare; Founder, Gauss Sur...

Alamin Uddin

Forbes 30 Under 30 in Healthcare; Cofounder, NexHealth

Shuo Qiao

Forbes 30 Under 30 in Healthcare; Cofounder, Moving ...

Eric Pahl

Forbes 30 Under 30 in Healthcare; Cofounder, HealthT...

Alex Villa

Forbes 30 Under 30 in Healthcare; Cofounder, Healthify

Eric Conner

Forbes 30 Under 30 in Healthcare; Cofounder, Healthify

Manik Bhat

Forbes 30 Under 30 in Healthcare; Cofounder, Healthify

Leah Sibener

Forbes 30 Under 30 in Healthcare; Cofounder, 3T Bios...

Toby Cosgrove

Former CEO & President at Cleveland Clinic

Travis Whitfill

Forbes 30 Under 30 in Healthcare; Cofounder, Azitra
More like Lea