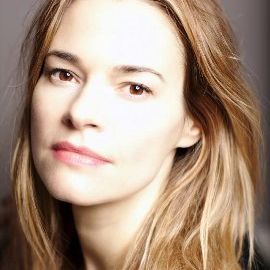 Leisha Hailey is an American actress and musician most widely known for playing Alice Pieszecki in the Showtime Networks production "The L Word." Hailey first came to the public's attention as a musician in the pop duo The Murmurs and has continued a music career as part of the band Uh Huh Her.
Born in Okinawa, Japan to American parents, Hailey grew up in Bellevue, Nebraska and attended Bellevue West High School. At 17, she came out as a lesbian before moving to New York City to attend the American Academy of Dramatic Arts.
With her Academy classmate Heather Grody, she formed the pop duo The Murmurs in 1991. In the 1990s, they released several albums and toured on the Lilith Fair. In 2001, Hailey and Grody changed their name to Gush. The band split when Hailey began working for "The L Word." In 2005, Hailey founded Marfa Records.
In July 2007, Uh Huh Her, an electropop duo consisting of Hailey and Camila Grey, released an EP entitled I See Red; over a year later they released their first album Common Reaction. Hailey also co-wrote the Shakira hit song "Don't Bother" for her 2005 hit album Oral Fixation Vol. 2.
Hailey's first major role was in the 1997 movie "All Over Me," and around this time, she played a struggling musician on an episode of "Boy Meets World." From 2003 to 2009, she starred as Alice Pieszecki, a bisexual journalist, on "The L Word." Hailey's award winning indie film "La Cucina" premiered on Showtime in December 2009, where she plays a straight pregnant newlywed. Since "The L Word's" conclusion Hailey has appeared in "Drop Dead Diva," "CSI: Crime Scene Investigation" and has done voice work for "American Dad!."
Hailey is openly gay and has been in relationships with k.d. lang and Uh Huh Her bandmate Camila Grey.