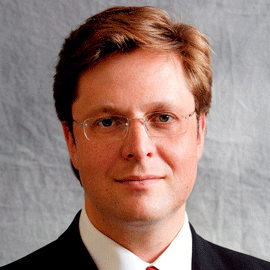 Leo M.Tilman is a recognized authority on financial markets,corporate strategy,and risk management and President of L.M. Tilman & Co., a strategic advisory firm that serves governments, financial institutions, corporations, and institutional investors worldwide. Through thought leadership in finance and risk management, L.M. Tilman & Co. helps its clients create lasting economic value. Prior to founding the firm, he held senior positions with BlackRock as well as Bear Stearns, where he was Chief Institutional Strategist and Senior Managing Director.
Mr.Tilman teaches graduate-level finance at Columbia University and is the author of three books translated into several foreign languages: Financial Darwinism (2009), Asset/Liability Management (2003), and Risk Management (2000.) In 2010, in collaboration with the Nobel economist Edmund Phelps, he co-authored a Harvard Business Review proposal to create of the First National Bank of Innovation – a novel financial institution dedicated to financing innovative entrepreneurial projects and fostering economic dynamism.
Mr. Tilman has been profiled as a Business Visionary by Forbes, a distinction given to "influential authors, decision makers, and thought leaders in the field of business." He is a contributing editor of The Journal of Risk Finance and serves on the advisory board of the Center on Capitalism and Society at Columbia University and on the board of directors of Atlantic Partnership. Mr. Tilman was honored by the World Economic Forum among a select group of executives, public figures and intellectuals recognized for "their professional accomplishments, commitment to society and potential to contribute to shaping the future of the world." He holds B.A. and M.A. degrees in mathematics from Columbia University and has completed executive education.
Related Speakers View all
---
Jon Bergmann

Pioneer of the Flipped Class Movement & Bestselling ...

Tom Rubin

Chief Intellectual Property Strategy Counsel, Microsoft

Mr. Sanjeev Bery

Advocacy Director for Middle East North Africa, Amne...

Mr. Roy Niederhoffer

Founder and President, R. G. Niederhoffer Capital Ma...

Mr. Robert Cavnar

Chief Executive Officer, Luca Technologies

Mr. Paul Maidment

Principal & Editor-in-Chief, Bystander Media LLC

Mr. L.N. Balaji

President, ITC Infotech (USA), Inc.

Mr. Roland Rich

Roland Rich, Officer-in-Charge, UNOP; Executive Head...

Mr. Phillip Anzalone, AIA

Director, Building Science and Technology Department...

Michael Kaiser

Executive Director, National Cyber Security Alliance

Mr. Matthew Drutt

Executive Director, Blouin Cultural Advisory Group

Mr. Jim Leech

President and CEO, Ontario Teachers' Pension Plan

Professor Edmund Phelps

Director, Center on Capitalism and Society, Columbia...

Mr. Jeffrey Friedberg

Chief Trust Architect, Microsoft

Mr. Eddan Katz

Visiting Fellow Access to Knowledge, Information Soc...

Mr. Jack Farchy

Commodity Markets Editor, Financial Times

Mr. Greg Bartalos

Editor-in-Chief of Barrons.com

Mr. Douglas W. Jamison

Chairman, CEO and Managing Director, Harris & Harris...

Daniel Gervais

FedEx Research Professor of Law, Co-Director, Vander...

Dr. Vincent Aleven

Associate Professor, Human-Computer Interaction Inst...
More like Leo