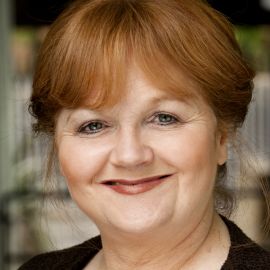 Lesley Nicol
English actress who is best known for her recurring role as Mrs. Patmore in the ITV drama series Downton Abbey, and for her roles as Mrs. Beaver in the 1988 BBC adaptation of The Lion, the Witch and the Wardrobe and as the Queen Giant in the 1990 adaptati
She has guest-starred on numerous British television series. She made her film debut in 1999's East Is East, reprising her role from the stage production. She also appeared as Rosie in the West End production of Mamma Mia! from 2000 to 2002.
She trained at the Guildhall School of Music and Drama.
Videos
---
News
---
Lesley Nicol Pictures, Blog, Interviews, News, Trivia, Lesley Nicol ...
Lesley Nicol pictures, fansite, blog, biography, rumors, Lesley Nicol trivia, leaked photos, love life, Lesley Nicol images, spoilers, filmography.