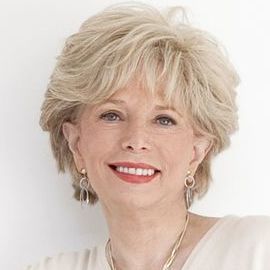 Lesley Stahl is one of America's most honored and experienced broadcast journalists. Her rich career has been marked by political scoops, surprising features and award-winning foreign reporting, a body of work that won her the RTDNA's 2015 Paul White award for lifetime achievement. She has been a 60 Minutes correspondent since March 1991. She is the author of the best-selling book Becoming Grandma.
Prior to joining 60 Minutes, Stahl served as CBS News White House correspondent – the first woman to hold that job – during the Carter and Reagan presidencies and part of the term of George H. W. Bush. Her reports appeared frequently on the CBS Evening News, first with Walter Cronkite, then with Dan Rather, and on other CBS News broadcasts.
During much of that time, she also served as moderator of Face The Nation, CBS News' Sunday public-affairs broadcast (September 1983–May 1991). For Face The Nation, she interviewed such newsmakers as Margaret Thatcher, Boris Yeltsin, Yasser Arafat and virtually every top U.S. official, including George H. W. Bush and Vice President Dan Quayle.
She was co-host with Charles Kuralt of "America Tonight," a daily CBS News late-night broadcast of interviews and essays (October 1990-March 1991).
Her experiences covering Washington for more than 20 years became the subject of her book Reporting Live. The stories she has covered since joining CBS News in the Washington bureau in 1972 range from Watergate through the 1981 assassination attempt on President Reagan to the 1991 Gulf War. She has reported on U.S.-Russian summit meetings and the economic summits of the industrialized countries, as well as the national political conventions and election nights, throughout her career.
Stahl anchored several CBS News documentaries, including "The Politics of Cancer" and "In the Red Blues," about the budget deficit, both for "CBS Reports."
Other Emmy wins include a Lifetime Achievement Emmy received in September 2003 and her first Emmy, won for reporting on a bombing in Beirut for the CBS Evening News in 1983. Her Face The Nation interview with Sen. John Tower won Stahl her second statuette. Her 60 Minutes reports "How He Won the War," about former FDA Commissioner David Kessler's battle with the tobacco industry, and "Punishing Saddam," which exposed the plight of Iraqi citizens, mostly children, suffering the effects of the United Nations sanctions against Iraq, were both Emmy winners. "Punishing Saddam" also won Stahl electronic journalism's highest honor, an Alfred I. duPont-Columbia University Silver Baton.
In 1996, Stahl was awarded the Fred Friendly First Amendment Award, given by Quinnipiac College, in recognition of her journalistic achievements. In 1990 she was honored with the Dennis Kauff Journalism Award for lifetime achievement in the news profession.
Stahl graduated cum laude in 1963 from Wheaton College, where she served on the board of trustees. She currently serves on the board of the New York City Ballet.
News
---
Lesley Stahl - CBS News
One of America's most recognized and experienced broadcast journalists, Lesley Stahl's career has been marked by political scoops, surprising features and ...
Related Speakers View all
---
Joan Lunden

Award-Winning Journalist, Bestselling Author & Healt...

Henry Winkler

Actor, Producer, Director & Best-Selling Author; Bes...

Giuliana Rancic

Entertainment Journalist & Breast Cancer Survivor

Gretchen Carlson

Acclaimed TV Journalist & Women's Empowerment Advocate

Bethenny Frankel

Entrepreneur, Reality TV Star & Bestselling Author; ...

Elizabeth Vargas

Emmy Award-Winning Journalist; Best-Selling Author; ...

Mayim Bialik

Neuroscientist & Actress, Known For "The Big Bang Th...

Anna Deavere Smith

Award-Winning Actress, Playwright, Social Commentator

Marilu Henner

Actress, Producer & NY Times Bestselling Author

Ben Stein

Political Economist, Commentator, Author & Actor

Sandra Lee

Emmy Award-Winning Television Chef & Lifestyle Exper...

Geena Davis

Award-Winning Actress & Philanthropist

Connie Chung

Highly Recognized Diversity Advocate & Television Pe...

Amy Robach

Co-Anchor of "20/20" & ABC News Correspondent for "G...

Laverne Cox

Award-Winning Transgender Actress, Producer & Equal ...

Chelsea Handler

Comedian, TV Personality & Author

Amy Poehler

Comedian, Writer, Producer & Actress Best-Known For ...

Katty Kay

Lead Anchor for BBC World News & Best-Selling Author

Shawn Johnson East

Olympic Gold Medalist in Gymnastics, "Dancing with t...

Elizabeth Cohen

Senior Correspondent for the CNN Health, Medical, & ...
More like Lesley