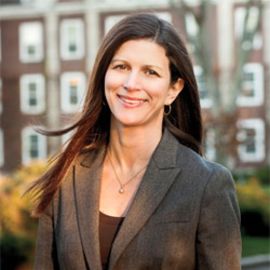 Leslie A. Perlow
Konosuke Matsushita Professor of Leadership in the Organizational Behavior area at the Harvard Business School
Leslie Perlow is the Konosuke Matsushita Professor of Leadership in the Organizational Behavior area at the Harvard Business School. She currently teaches Authentic Leadership Development in the MBA program and runs a doctoral seminar on the craft of qualitative inductive research. She recently completed a new book, Sleeping with your smartphone: How to break the 24-7 habit and change the way you work.
Professor Perlow's research focuses on the micro-dynamics of work. She seeks to understand what really happens at work – i.e., what do people do all day, how do they spend their time, with whom do they interact – and with what consequences for organizations and individuals. She documents individuals' work practices and explores the implications of these practices for organization productivity, individuals' careers and family life. Through her work, she identifies ways organizations can change their practices to the benefit of both the organization's productivity and the individuals' personal lives. She also engages with organizations trying to make these changes and studies the change process itself.
Professor Perlow is trained as an ethnographer, which means she spends long periods of time observing people as they go about their daily work, trying to better understand their world, from their perspectives. Her recent field studies include: 1) US software engineers involved in product development; 2) a cross cultural comparison of software engineers doing highly similar tasks in India, China, and Hungary; and 3) case teams from a management consulting firm working on different client engagements.
Before joining the Harvard faculty, Professor Perlow was on the faculty of the University of Michigan Business School. She received her B.A. in Economics from Princeton University and her Ph.D. in Organization Studies from MIT. Prior to her academic career, she worked as a management consultant.
Videos
---