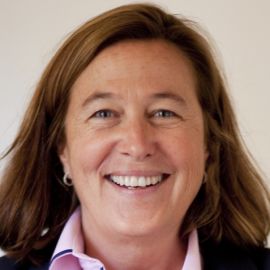 An interventional cardiologist, Leslie Saxon, MD is a professor of medicine and clinical scholar at the Keck School of Medicine of USC. She specializes in wirelessly connected implantable and wearable devices that treat and diagnose heart conditions and prevent sudden death. Board-certified in cardiology, electrophysiology and heart failure, Saxon has authored more than 100 articles in various medical journals. She is an active member of several organizations and is a fellow at the Heart Rhythm Society.
Saxon is also the executive director of the internationally acclaimed USC Center for Body Computing (CBC). The CBC is a place for all USC schools, including medicine, engineering, business and cinematic arts, to form interdisciplinary relationships and accelerate the future of fully integrated, "connected" medicine. Saxon participates in the preclinical and clinical development and testing of wearable and implanted technology, including networked devices used in medicine, wellness and performance. Her active research programs involve connected sensors with elite athletes, military groups and patients. Her work is dedicated to providing users with continuous and protected information about their health or performance status. She leverages her clinical expertise to develop device models and software solutions that offer engaging user feedback–based real-time physiologic data.
Saxon has spoken at various forums, including TEDMED, SXSW and WIRED Health. She is regularly quoted in popular media outlets, including the Wall Street Journal, New York Times, BBC and Fast Company.
Related Speakers View all
---
Karen DeSalvo

Chief Health Officer, Google; Former Assistant Secre...

Nadine Hachach-Haram

Co-Founder Proximie, NHS Clinical Entrepreneur Fello...

Daniel Kraft, M.D.

Physician-Scientist; Founder of Exponential Medicine...

David Agus

Professor of Medicine and Engineering at the Univers...

Toby Cosgrove

Former CEO & President at Cleveland Clinic

Dr. Joel Selanikio

Award-Winning Physician, Health & Technology Activis...

Susan Dentzer

President & Chief Executive Officer of the Network f...

Dr. Nick van Terheyden

Digital Healthcare and Innovation Expert, Former Chi...

Dr. Aenor Sawyer

Orthopedic Surgeon; Associate Director of Strategic ...

Glen Tullman

Executive Chairman & Founder of Livongo Health

Rudolph E. Tanzi

Alzheimer's Disease Researcher; Expert on the Geneti...

Susan Solomon

Co-Founder and CEO of NYSCF, a Nonprofit Established...

Dr. Jeffrey Bauer

Health Futurist, Author & Medical Economist

Catherine Mohr

Vice President of Strategy at Intuitive Surgical & P...

Ray Kurzweil

Chairman of Kurzweil Technologies; Inventor; Futurist

Dr. Michio Kaku

World-Renowned Futurist & Theoretical Physicist

Esther Dyson

Executive Founder of Way to Wellville

Josh Luke

Futurist & Healthcare Expert; Executive Faculty at t...

Peter Diamandis

Founder & Executive Chairman of the XPRIZE Foundatio...

Vic Strecher, Ph.D. MPH

Founder, JOOL Health; Professor, University of Michi...
More like Leslie