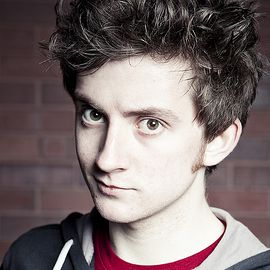 Liam Dryden
Scottish Internet Personality; Known as a Part of the Band Chameleon Circuit and as Kai in "Chronicles of Syntax"
Liam is a filmmaker, event planner, ukulele player and community leader. Liam is proud of his resemblance to David Tennant and frequently shares his love for geek culture, TV and literature. When he's not making videos Liam organizes the biggest YouTube meetup in the UK, Summer In The City.
Dryden was born on December 29, 1989, and raised in Stirling, Scotland. Dryden began posting videos to YouTube during his first year of university in late 2007 on his channel "littleradge," experimenting with editing software to create YouTube Poop (since removed from his channel) and edits of clips and scenes from "Doctor Who." He developed an interest in vlogging after a need for a "creative outlet" and posted his first vlog in January 2008. Since then, almost every video posted to his channel has featured Dryden on camera. His content has varied from vlogs, sketches and music, resulting in The Daily Dot describing him as a "Swiss Army Knife of YouTube."
Dryden is one of the founding members of Chameleon Circuit, a band known for creating music inspired by the British television series "Doctor Who." Along with fellow vloggers Alex Day, Charlie McDonnell, and former member Chris Beattie ("CowInParachute"), Chameleon Circuit released their self-titled debut album in June 2009. In July 2010, their song "Count the Shadows" (written and sung by Dryden) also appeared on DFTBA Records, Volume Two, a compilation sampler that was given for free in the grab bags at VidCon 2010.
Dryden began posting music to his own channel in late 2012, beginning with an a capella cover of Ben Folds Five's "Do It Anyway." He followed this with a similar cover of The 88's "At Least It Was Here," most recognized as the theme song for the sitcom Community.
In 2009, Dryden auditioned and was cast in the role of Kai, in a conceptual sci-fi television series titled "Chronicles of Syntax," written by Susan E Clarke.
Dryden is one of the founding organizers of Summer in the City, an annual event for the British YouTube community held every August in London. Along with fellow YouTubers Tom Burns ("RandomProdInc"), Dave Bullas ("MusicFromBlueSkies"), Jazza John ("rhymingwithoranges") and Luke Cutforth ("LukeIsNotSexy"), the team has grown the event from a small meetup in Hyde Park in 2009 to now spending its second year in Alexandra Palace in 2014, with a sold-out attendance rate of 7,000. The event is expected to begin with its first Industry Day this year, similar to US-based YouTube event VidCon.
As a cisgender white male, Dryden has been credited for his recent vocal stance on feminism and equal rights online. In October 2013 he contributed to fellow YouTuber Rosianna Halse Rojas' ("MissxRojas") 2013 Ladies' Survey, where he pledged " to learn how to be the best feminist ally [he] can be, which means speaking with the group to help the cause, not on behalf of it...knowing when [his] opinion as a male on feminism is valid and when it isn't, and not just being supportive for [his] own benefit."
At VidCon 2014, Dryden spoke on a panel titled "Fighting Sexism On YouTube" with YouTubers Laci Green, Emily Graslie, Alli Speed, SourceFed's Trisha Hershberger, Hazel Hayes and Rosianna Halse Rojas.
Videos
---
Related Speakers View all
---
Charlie McDonnell

Videography, Filmmaking, Music

Olajide Olatunji ("KSI")

YouTube Star Known for His Comedy Sketches and Video...

The Fine Bros.

Online Producers, Writers & Directors; Known for The...

Lilly Singh

YouTube Personality, Comedian, Author & Actress; Hos...

Taryn Southern

Artist and Digital Storyteller

Evan Fong (VanossGaming)

YouTube Gaming Star

Connor Franta

American YouTube Vlogger, Internet Personality & Ent...

Brock Baker

YouTube Star Known as "The Man of a Kajillion Voices"

Mamrie Hart

Host of the YouTube Show "You Deserve A Drink"

Tyler Oakley

YouTube Personality & New York Times Bestselling Aut...

Nash Grier

Social Media Guru & Digital Influencer

Michael Stevens

YouTube Sensation; Best Known as Vsauce

Jenna Marbles

YouTube Sensation

Ben Cook

President Direct Match Media

Joe Sabia

Head of Development at Conde Nast Entertainment, Dir...

Michelle Phan

Make-Up Artist, Entrepreneur, YouTube Personality; F...

Lucas Cruikshank

Comedic Actor; Creator of the Character Fred Figgleh...

Matt Vasey

Senior Director of Artificial Intelligence at Micros...

Catherine D'Ignazio

Assistant Professor of Urban Science & Planning at M...

Mark Rober

Engineer, Inventor & YouTube Personality
More like Liam