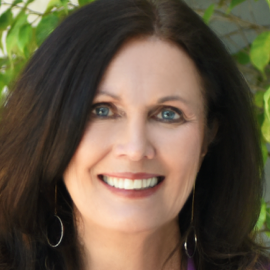 Libby Gill knows change. Libby grew up on two continents in a family decimated by alcohol, mental illness, and suicide. Moving back and forth between households, she went to eight different schools before putting herself through college waiting tables. Starting her career as an assistant at Embassy Communications, a television company founded by the legendary Norman Lear, Libby survived three mergers and became head of publicity, advertising, and promotion for Sony's worldwide television group in just five years. After her first career heading communications at media giants Sony, Universal, and Turner Broadcasting, Libby founded LA-based Libby Gill & Company, a leadership consulting and executive coaching firm. She guides individuals and organizations to lead through change, challenge, and chaos by deeply engaging employees in a shared future-focused vision of success.
In her consulting, coaching, and keynotes Libby helps her clients:
• Reframe change as an opportunity for massive growth • Re-energize your best performers to reach their full potential • Reinvent your corporate culture to thrive through uncertainty
Her coaching clients include Disney, Ernst & Young, Facebook, First American Insurance, Hyundai, Microsoft, Sony, Sutter Health, Viacom, Warner Bros., Wells Fargo, and numerous non-profits and small businesses.
A global speaker, Libby has delivered keynote presentations on three continents and in 37 US states for organizations including Abbott Medical, Acura, ADP, Bank of America, Capital One, Cisco, Disney, Honda, Intel, Kellogg's, Marriott International, Medtronic, PayPal, Oracle, Royal Caribbean Cruise Lines, United Healthcare, Sony, Vanguard, Warner Bros., Wells Fargo, and many more.
Libby is the author of five books, including the award-winning You Unstuck, Capture the Mindshare and the Market Share Will Follow, and Traveling Hopefully. Her latest book is The Hope-Driven Leader: Harness the Power of Positivity at Work. Her sixth book, to be published in Fall 2020, is tentatively titled Leaders in the Making: Getting Serious about Developing Leaders in Higher Education. Libby co-authored the book with the executive director of Rice University's Doerr Institute for New Leaders, former Brigadier General Thomas Kolditz, Ph.D. and Dr. Ryan Brown. A former columnist for the Dallas Morning News, Libby has published book chapters and peer-reviewed articles for numerous journals and trade publications. Business leaders including Zappos.com CEO Tony Hsieh, Stephen M.R. Covey, Dr. Marshall Goldsmith, and Dr. Ken Blanchard have endorsed her work
A frequent media guest, Libby has appeared on the CBS Early Show, CNN, Inside Edition, NPR, the Today Show, and in BusinessWeek, Time, the New York Times, Wall Street Journal, and many more. Libby is the Vice Chair of the Board of Directors of Didi Hirsch Mental Health Services, which developed the first suicide prevention hotline in the United States and serves more than 100,000 low-income adults and children in Southern California with mental health services every year.
Speech Topics
---
IGNITING BOLD LEADERSHIP AT ALL LEVELS
Rising rapidly up the corporate ladder, Libby moved from office temp to C-suite division head in just five years. Now she shares her leadership strategies with organizations around the world who strive to create a culture of excellence, despite difficult times. With her proven Clarify, Simplify & Execute process, Libby guides corporations and individuals from start-ups to CEOs to create bold leaders at every level of the organization.
CREATING A CULTURE OF ACCOUNTABILITY
What are the limiting assumptions that your leaders, managers and employees are making about your business every single day? And what happens to profitability, productivity and morale when those limiting assumptions go unchallenged? Those are the questions that Libby Gill asks and answers when she addresses organizations that are ready to vanquish business as usual.
INSPIRING HIGH-PASSIONS TEAMS
More than ever before, teamwork requires passion. With the increased complexity of cross-business reporting structures, interdependent skill-sets and the advent of the virtual office, it is essential that individuals learn to function as high-passion, high-performance teams to create long-term results.
BUILDING A MINDSHARE BRAND
Its more important than ever that your brand cuts through the clutter and captures the mindshare of your customers and clients. Because once youve got their mindshare that is, the heads, hearts, trust and loyalty the market share will follow. Perfect for association audiences, in her high-energy, interactive presentation including her lively audience participation game Name That Brand Libby shares five key strategies for creating a powerful brand.
THE HOPE-DRIVEN LEADER: Leading Through Change, Challenge, and Chaos
How do you keep your emerging and established leaders energized and enthusiastic as they tackle massive change?
How do your leaders help their team members cope with overwhelm and ambiguity? Give them the greatest gift of all: hope. In her dynamic keynote, Libby shares the scientific data on Hope Theory as well as her own research and insights on the impact of hope on the workplace. She demonstrates why hope is one of the most important elements of successful leadership and culture - as well as one of its most overlooked. She provides relevant company-specific customization and a dynamic interactive approach that gets audiences thinking, talking, and - most important - taking action on new ideas the very same day. Her interactive presentation will:
Infuse your team with vision and vitality by learning the science-based benefits of Hope Theory.
Discover why high-hope people set more goals, identify goals which are harder to attain, and are more successful at reaching their goals than lowhope people.
Experience a rousing call-to-action that will leave participants equipped - and responsible - for their own success.
YOU UNSTUCK: Mastering the New Rules of Risk-taking in Work and Life
Sooner or later, every individual and organization gets stuck. It's just part of the human condition. But you don't have to make stuck your normal state! With an emphasis on linking beliefs to behaviors, Libby connects the dots between personal accountability and organizational success. She helps you understand why you might be getting in the way of your own success and what you can do to change that pattern forever. Your group will receive timely takeaways to:
Set the tone for learning before the event by having participants take the YourCareerQuiz.com assessment to see what's working and what's not in their careers.
Discover 5 Reasons We Resist Change and how to overcome them.
Identify and overturn your personal and organizational excuse-making behavior - the Immediate Negative Response - and replace it with bold action.
IGNITING BOLD LEADERSHIP: Inspiring Purpose and Driving Performance
Most experts focus only on what companies want from their leaders, but Libby shares the data on what followers want – and deserve – from their leadership. Research shows us that the best leaders provide not only guidance and direction, but also the personal connections that help people succeed. As the former head of corporate communications and media relations for Sony, Universal, and Turner Broadcasting, Libby was instrumental in creating and communicating culture change. Thriving in a challenging industry where competition and chaos were the norm, Libby shares provocative leadership strategies and powerful personal stories to help your group understand why not taking risks is the biggest business risk of all. In her high-energy interactive presentation, Libby shares timely concepts and relevant takeaways to help your group:
Discover the 4 traits that followers crave from their leaders.
Master Libby's proven CSE Process to "Clarify the vision, Simplify the path, and Execute the plan" with bold risk-taking and flawless follow-through.
Learn the Language of Leadership - regardless of professional level - to influence and inspire others even in times of chaos
LIFT AS YOU CLIMB: Women Helping Women in the Workplace
Libby surprises audiences when she tells them that she looks forward to the day when women's leadership events are no longer held because we need them, but only because we want them. When that day comes, she is proud to add her perspective to the conversation about women and the multiple roles they play in work and life. With her expertise as both an executive and entrepreneur, Libby shares an inspirational blend of leadership strategies and poignant personal stories to help women on their journey to success on the job, at home, and in their communities. Libby's dynamic interactive presentation helps you:
Craft a Credibility Booster that establishes immediate rapport and connection.
Tap into uniquely female strengths by identifying you Leadership Superpower.
Master 5 Strategies to Stop Being Humble to a Fault so you can boost confidence and step into your power.
THE JOURNEY OF CHANGE THROUGH THE LENS OF HOPE
Executive coach, leadership expert, and award-winning author Libby Gill delivers an inspiring message—and answers your questions—about the power of hope in these challenging times. Libby, the former head of communications for Sony, Universal, and Turner Broadcasting, will discuss the science of hopefulness, called Hope Theory, and describe its application to your workplace. She shares science-based strategies to help you move past obstacles, define a positive picture of the future, and get your team into action despite uncertainty with her trademarked True Hope Process.
Leading Through Change, Challenge, and Crisis - for leaders who need to communicate to their employees on fear and uncertainty
You Unstuck: Creating a Culture of Risk-taking - for all audiences
Lift As You Climb - for established and emerging women leaders
Related Speakers View all
---
Eduardo Briceño

Growth Mindset and Improvement Expert; Co-Founder of...

Dr. Jackie Freiberg

Corporate Culture & Leadership Strategist, Best-Sell...

Doug Lipp

Former Head of Training at Walt Disney University & ...

Marilyn Tam

Best-Selling Author, Consultant, Board Certified Exe...

Polly LaBarre

Founding Member of the Fast Company Magazine, Co-Fou...

Adrian Gostick

Founder of The Culture Works & Bestselling Author of...

Mark DeVolder

Change Management & Employee Engagement Expert

J.R. Martinez

Actor, Best-Selling Author, Motivational Speaker, Ad...

Fran Hauser

Media Executive, Startup Investor & Best-Selling Aut...

Bill Capodagli

Author of "Innovate the Pixar Way: Business Lessons ...

Vince Poscente

Former Olympic Speed Skier, Best-Selling Author, Lea...

Haydn Shaw

Expert in Generational and Cross-functional Roles, C...

Josh Linkner

Five-Time Tech Entrepreneur; Hyper-Growth CEO; NY Ti...

Jason Young

Former Senior-Level Manager at Southwest Airlines & ...

Robert Spector

Customer Service Expert, Bestselling Author & Creato...

Amanda Gore

CEO of The Joy Project; Author & Psychologist; Emoti...

Dr. Kevin Freiberg

World-Wide Best-Selling Author, Speaker & Advisor

Jan Fields

Former President of McDonald's USA & Chairman of the...

Randi Zuckerberg

CEO & Founder of Zuckerberg Media; Bestselling Autho...

Shannon Miller

Olympic Gold Medalist, Health Advocate & Cancer Surv...
More like Libby