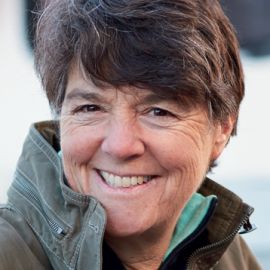 Growing up on coastal Maine, Linda Greenlaw was entranced by the ocean and everything that swam in it. When other kids got their first 10-speed bicycles, she got her first 10-horsepower outboard. Later, Greenlaw literally sailed her way through college, spending her summers as a cook and deck hand on a swordfishing boat. After graduating from Colby College with a double major in English and government, Greenlaw returned to the sailor's life, becoming a ship captain when she was in her 20s and earning a reputation as \"one of the best swordboat captains, period, on the East Coast\" (in the words of Perfect Storm author Sebastian Junger).
For over 15 years, this remarkable achievement went generally unremarked-upon. Then came Sebastian Junger's The Perfect Storm, the true story of the fishing boat Andrea Gail, which disappeared in a hurricane at sea in October of 1991. Greenlaw was captain of the Andrea Gail's sister ship, the Hannah Boden, which was also at sea during the fateful storm. Though Greenlaw is only a minor figure in Junger's book, readers were intrigued by the idea of a woman who'd made it to the top in a heavily male-dominated-and highly dangerous profession. In 2000 The Perfect Storm was made into a feature film in which Linda Greenlaw was played by Mary Elizabeth Mastrantonio.
Starting out as a cook and deckhand aboard a swordboat during her summer breaks from college, Linda had worked her way into the captain's chair by 1986. Greenlaw has skippered boats from Newfoundland to Brazil and has enjoyed a number of types of fishing, including harpooning and long-lining for sword, dragging for squid, tub-trawling for halibut, and trapping lobster and crab. Presently, she works her own boat inshore, lobstering the water surrounding her home on Isle Au Haut, a small island off the coast of Maine.
Linda Greenlaw is the author of five bestselling books about life as a commercial fisherman. Her earliest three books, The Hungry Ocean (1999), The Lobster Chronicles (2002), and All Fishermen Are Liars (2004) spent several weeks on the New York Times Bestseller list, the second reaching number two and winning the U.S. Maritime's 2003 Literature Award. The following year, Greenlaw was selected as the winner of the 2004 New England Book Award in the nonfiction category.
Her 2005 release is titled Recipes From A Very Small Island, it is a cookbook of New England-style dishes written with her mother, Martha. Many of the recipes were passed down from generations of Greenlaw, as well as tips on how to cook a lobster and prepare for a clam bake.
Greenlaw is also featured in the hit Discovery Channel series Swords: Life on the Line.
In her riveting speeches, Greenlaw discusses the characteristics and themes associated with her profession that everyone can relate to: the taking of extreme risks in the line of duty; the leadership necessary to command a tough, all-male crew; the importance of preparation in achieving one's goals; the necessity of teamwork in running a ship; use of crisis-management techniques at sea; and how she used her outstanding work ethic to reach the top of a male-dominated profession.
Videos
---
Related Speakers View all
---
Sir Richard Branson

Businessman, Founder of Virgin Group

Nick Jans

Nature Writer & Photographer; Bestselling Author of ...

Sy Montgomery

Naturalist, Adventurer & Author of "The Good Good Pi...

Lois Lowry

Newbery Medal-Winning Author of "Number the Stars" a...

Dan Siegel

New York Times Best-Selling Author, Neuropsychiatris...

Julian Baggini

Julian Baggini is the author of several books about ...

Jon Bergmann

Pioneer of the Flipped Class Movement & Bestselling ...

David R. Dow

David R. Dow has defended over 100 death row inmates...

Tracy Chevalier

Historical Novelist Best Known for Her Second Novel,...

Janine di Giovanni

Author, Award-Winning Foreign & War Correspondent; P...

Daniel Pauly

Daniel Pauly is the principal investigator at the Se...

Dave Logan, PhD

Author of New York Times #1 Bestseller "Tribal Leade...

Jeffrey Kluger

Journalist; Editor and Writer at TIME MAGAZINE. Auth...

J.K. Rowling

Author of the "Harry Potter" Series

Damon Brown

TED Speaker, Co-Founder of Cuddlr, Entrepreneur, Inc...

Bob Chapman

CEO of Barry-Wehmiller & Bestselling Author of "Ever...

Leif Babin

Retired Navy SEAL & Purple Heart Recipient; NYT Be...

Thomas Woods

Leading Libertarian Thought Leader, American Histori...

J. Kenji Lopez-Alt

Chef & Food Columnist; James Beard Award-Winning & N...

Helen MacDonald

English Writer & Naturalist, Bestselling Author of "...
More like Linda