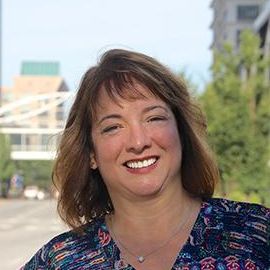 Linda Ruffenach
Entrepreneur, Former CEO of $100 Million Customer Engagement Agency & Author of "How to be a Bourbon Badass"
Linda Ruffenach has many passions including a love for business, a taste for bourbon and a strong belief in the importance of the employee and customer experience. She has been in marketing and customer care for over 20 years. She has been COO, CFO & CEO, growing a small startup to a $100+ million international enterprise . She has been through every stage a company can go through from fast growth, rapid decline, to complete transformation.
She believes everyone can achieve Total World Domination, both personally and professionally. The first step is understanding what it means to you, your career and the people around you. Through guided discovery you realize it is about recognizing the critical decisions we make everyday that influence the direction your path with lead. It is about empowering each of us to recognize and take control for where life takes us.
As the founder of Whisky Chicks and author of the best-selling book, How to be a Bourbon Badass, she is the perfect blend of business and bourbon. She has helped introduce and educate 1000's of people from all over the world, to the pleasures of a good glass of whisk(e)y and to the secrets of how to achieve their version Total World Domination.
Speech Topics
---
Business Strategy, Empowerment, Bourbon
Related Speakers View all
---
Alex Chriss

General Manager of Intuit QuickBooks

Stan Phelps

IBM Futurist, Workshop Facilitator & Author

John A. Goodman

Customer Experience Researcher, Innovator & Entrepre...

Elijah Ezendu

Award-Winning Business Expert & Software Architect +...

Monica Strobel

Igniting Positive Culture, Positive Leadership, High...

Grant D. Fairley

Inspirational Speaker and Teacher, Executive Coach &...

Don Peppers

Marketing and Sales Futurist; Customer Experience Th...

John Ruhlin

World's Leading Authority in Maximizing Customer Loy...

Adam Ferrier

Founder of ThinkerBell, Multi Award-Winning Brand St...

Janelle Estes

Chief Insights Officer at UserTesting & Author; Expe...

Steve Dennis

Retail Strategy & Innovation Expert

Eoghan McCabe

CEO of Intercom

Natalie Abeysena and Luciano Arango

Co-Founders of ScopeAI

Joey Coleman

Chief Experience Composer at Design Symphony & Author

Chris Malone

Chief Marketing Officer, Loyalty Expert & Author

Dan Steinman

Entrepreneur & Chief Customer Officer at Gainsight

Barbara E. Kahn

Profesor of Marketing, Wharton School of Business

Dee Ann Turner

Communicator, Consultant & Coach, Former Vice Presid...

Phillip Fernandez

Entrepreneur, Former CEO of Marketo & Advisor at Sha...

Blake Morgan

Customer Experience Consultant & Futurist; Forbes Co...
More like Linda