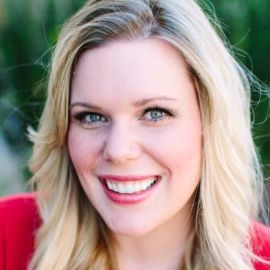 LinkedIn's Head of Marketing once referred to Lindsey as a "Legend in the Realm of Social Selling" and someone who "knows how to sell." That was before her life fell apart in 2016.
Lindsey started her career in sales in 2010 and quickly rose to the top crushing her quota and making President's Club her first year in sales. Receiving the highest Social Selling Index (SSI) score for LinkedIn in 2015, Lindsey was recognized for her unique and effective outreach for prospecting and was even a featured keynote with Shaquille O'Neal at LinkedIn's annual conference. Lindsey's sales experience became vast and ultimately ended up in sales leadership. In 2016, Lindsey started her own sales consulting business and traveled all over the world speaking at conferences, sales kickoffs, and consulted with various companies. Her most noteworthy keynote that year was being featured with Gary Vaynerchuk.
It appeared she had it all: the perfect family, the house, the car, and the career. Then in 2016 but her whole world came crashing down when her sister unexpectedly died from a brain aneurysm. Afterwards, Boggs found herself on a suicidal path that led her to a mental hospital.
The series of events after her hospital stay would change the course of her life. Lindsey talks about her mental health diagnosis and educates on the stigma of mental health.
Videos
---
Related Speakers View all
---
Kevin Briggs

Golden Gate Guardian, International Crisis Managemen...

Andrea Paquette

Mental Health Advocate, Founder & President of the S...

Kevin Hines

Brain Health Advocate & Storyteller

Andrew O'Brien

Suicide Survivor & Preventer, Army Veteran, Founder ...

Tanya Brown

Mental Health & Domestic Violence Prevention Advocate

Clint Malarchuk

Former NHL Goalie, NHL Coach, Suicide Survivor & Men...

Joshua Rivedal

Suicide Prevention Speaker

Dave Romano

Professional Mental Health Speaker from Active Minds

Marti MacGibbon

Humorous Inspirational Speaker, Certified Mental Hea...

Diane Carlson Evans

Army Nurse & Founder of The Vietnam Women's Memorial...

Sam Quinones

Journalist & Author of "Dreamland: The True Tale of ...

Sahar Paz

CEO, Own Your Voice Strategy Firm; Author, "Find You...

Dr. Nadine Burke Harris

Surgeon General of California; Co-Founder and Former...

Amanda Russell

Digital Marketing & Branding Strategist, Professor ...

Candy Finnigan

Interventionist on the A&E Series Intervention

Malaak Compton

Activist & Philanthropist

Catherine Garceau

Olympic Bronze Medalist & Author of "Swimming Out of...

Judy Collins

Legendary Folk Singer & Activist

Koya Webb

Spiritual Health & Wellness Educator

Gabrielle Glaser

Author, Award-winning Journalist
More like Lindsey