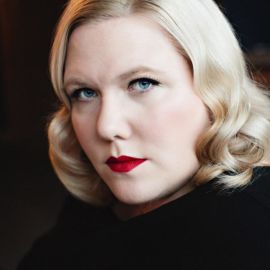 In 2009, West began working as the film editor for Seattle's alternative weekly newspaper, The Stranger. In 2011, she moved to Los Angeles, but continued to write for The Stranger until September 2012.
She was a staff writer for Jezebel where she wrote on racism, sexism, and fat shaming.] West's work has been published in The Daily Telegraph, GQ, the New York Daily News, Vulture.com, Deadspin, Cracked.com, MSNBC and The Guardian. In 2013 West won the Social Media Award from the Women's Media Center, presented by Jane Fonda in New York City. Accepting the award, West said, "I hear a lot these days about the lazy, aimless 'millennials' – about how all we want to do is sit around twerking our iPods and Tweedling our Kardashians – and I also hear people asking, 'Where is the next generation of the social justice movement? Where are all the young feminists and womanists and activists?' Dude, they're on the internet."
On September 19, 2015, West co-founded Shout Your Abortion, a social media campaign on Twitter where women share their abortion experiences online without "sadness, shame or regret" for the purpose of "destigmatization, normalization, and putting an end to shame". The social media campaign was initiated in response to efforts by the United States House of Representatives to defund Planned Parenthood following the Planned Parenthood 2015 undercover videos controversy.
In 2016, West won The Stranger's Genius Award in Literature for her book Shrill: Notes from a Loud Woman.
On July 1, 2017, West became a contributing opinion writer for The New York Times, after having written two op-ed columns for the Times in 2016. Her feminism and popular culture column appears weekly.
Videos
---
Related Speakers View all
---
Mwende "FreeQuency" Katwiwa

Speaker & Performer

Sheila Nevins

Sheila Nevins, president of HBO Documentary Films

Kim Masters

Editor-at-Large of the Hollywood Reporter; Host of K...

Tali Gumbiner

Associate Creative Director at McCann New York

Linda Gordon

Award Winning Author, Historian & Feminist

Jameela Jamil

Actress, Outspoken Feminist & Body Positivity Advocate

Lisa Congdon

Fine Artist, Author & Illustrator

Eileen Pollack

Director of Master of Fine Arts Program at the Unive...

Jodi Kantor

Pulitzer-Prize Winning Journalist & Author

Joyce Maynard

Former New York Times Reporter & Columnist; Best-Se...

Megan Clement

Managing Editor of Women & Girls at News Deeply

Suzanne Ginestro

Chief Marketing & Innovation Officer at C-Fresh, Cam...

Lisa Joy

Co-Creator & Executive Producer of HBO's "Westworld"

Katharine Viner

Editor-in-Chief,of Guardian News & Media

Marianne Cooper

Sociologist & Lead Researcher for " Lean In: Women, ...

Anna Holmes

Founder and Editor of Online Women's Magazine, Jezeb...

Nina Easton

Chair of Fortune Most Powerful Women International; ...

Asia Argento

Actress, Singer, Model & Director; Best Known for "xXx"

Rebecca Walker

Bestselling Author & Founder of the Third Wave Femin...

Morgan Jerkins​

Contributing Editor at Catapult & Author of "This Wi...
More like Lindy