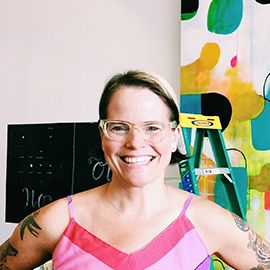 Lisa Congdon is a fine artist, author and illustrator who is known for her colorful abstract paintings, intricate line drawings, pattern design and hand lettering. She currently lives and works in Portland, Oregon, and works for clients around the world such as the MoMA, Harvard University, Martha Stewart Living and Chronicle Books.
Congdon is the author several books, such as Art Inc: The Essential Guide to Building Your Career as an Artist, and illustrated the books Whatever You Are, Be a Good One, Twenty Ways to Draw a Tulip and A Collection A Day. She has also illustrated six coloring books for adults as part of her Just Add Color series. In October 2017, she released A Glorious Freedom: Older Women Leading Extraordinary Lives.
Congdon grew up in upstate New York and Northern California. She married her partner Clay Lauren Walsh on June 1, 2013.