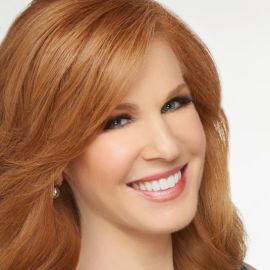 Liz Claman joined FOX Business Network (FBN) as an anchor in October 2007. Her debut included an exclusive interview with Berkshire Hathaway CEO and legendary investor Warren Buffett. Since the 07 launch of Fox Business, Claman has brought extended and exclusive interviews to the networks viewers ranging from Treasury Secretary Timothy Geithner, Muhtar Kent, the CEO of Coca Cola, McDonalds Jim Skinner, Securities and Exchange Commission Chairman Mary Schapiro, European Central Bank leader Jean-Claude Trichet, Former Federal Reserve Chairman Paul Volcker, Microsofts Bill Gates, Fords Alan Mulally and Googles Eric Schmidt.
Claman originated the Fox Business Networks 3 Days in the Valley, a 3 day-long exclusive live shoot in Silicon Valley that draws scores of the regions top business leaders including Intels Paul Otellini, Yahoos Carol Bartz, the CEOs of Ebay, Twitter, Tesla, LinkedIn, Applied Materials, Google, PayPal, Adobe, Pandora, TiVo, Symantec, Adobe Systems and more.
Before CNBC, Claman served as an anchor and reporter for Boston's WHDH-TV (NBC). She was also a contributing correspondent for NBC's syndicated daytime program RealLife. Prior to that, she anchored a two-hour daily talk show, The Morning Exchange for WEWS-TV (ABC) in Cleveland. She received an Emmy for her work on The Morning Exchange.
Claman was born and raised in Los Angeles. She attended Beverly Hills High School and attended Phillips Academy Andover for a semester where she took Radio Broadcasting and received her 3rd Class FCC broadcasting license. A graduate of UC Berkeley, Claman also attended Universite de Paris, La Sorbonne and received the Sorbonnes Certificat Superieur degree. She began her on-air career at WSYX-TV (ABC) in Columbus, OH as a reporter and later a weekend anchor. She began as an intern and production assistant/news associate for KCBS-TV (CBS) in Los Angeles where she became the youngest person in the station's history to win a local Emmy Award for Best Spot News Producer.
Claman is a mother of two and is involved in several charities. She has served as a Big Sister for the New York Jewish Board of Family and Childrens Services Big Brothers/Big Sisters program. She is a frequent speaker for the Anti-Defamation League. She has also served as an honorary chair for Miracle Corners of the World, a non-profit organization working to empower youth to effectuate positive change in African communities. She also works to raise money for Building Homes For Heroes, which builds homes for our severely wounded and disabled veterans returning from Iraq and Afghanistan. An avid runner and cyclist, Claman has completed the New York City Marathon and is a three-time Triathlete, having completed the New York City Nautica Triathlon.
Claman, the daughter of the world-renowned surgeon Dr. Morris Claman and Royal Academy theatre actress June Faibish, also serves on the Advisory Board of the American Theatre Wing and is a Tony Award Voter.
Speech Topics
---
To Buffett and Beyond: Learning The Secrets Of Success From The Most Brilliant Minds In Business
Emmy Award-winning journalist Liz Claman and anchor of FOX Business Countdown to the Closing Bell and After the Bell has landed some of the toughest `gets in Business Journalism: She nabbed the very first hour-long, live network interview with one of the worlds richest men, billionaire Warren Buffett, and shes picked the brains of some the most successful people on the planet, from Googles Eric Schmidt to Microsofts Bill Gates. Each has shared his or her secrets to success, from the pure inability to see failure as a negative, to a never-say-die attitude that has propelled them to the top. In an inspirational account, Claman, who authored the book The Best Investment Advice I Ever Received and described by Vanity Fair as one of televisions top business reporters and anchors, outlines the special something that famed CEOs and business luminaries possessand how you can adopt some of their ideas to help you reach your own pinnacle. In her keynote presentations or as a moderator, Claman gets to the essence of what separates todays best and brightest leaders from the pack.
The New Economy: Spineless Or Standing Tall: How And When Will America Soar Again If Were Hamstrung By Global Gyrations?
At the start of the new millennium, the excitement around a global economy was palpable with sugar plums in the form of trading partners dancing around in world leaders heads. With the implosion of Greece, concerns about Italy, Spain and Portugal still hovering over the world economys head, can the U.S. stand a chance of recovering? The unequivocal answer from Liz Claman is YES and heres how and why itll happen. Her access to the worlds biggest business leaders from Warren Buffett to Bill Gates to Googles Eric Schmidt to Intels Paul Otellini to Alcoas Klaus Kleinfeld reveal the real and more optimistic answers.