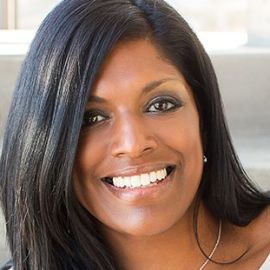 A businesswoman, speaker, life coach, and television host, Liz Nead is an expert in providing encouragement, confidence and life improving techniques to her audience.
With over 15 years of experience in senior management, Nead chose to fully transition her career to become a motivational speaker. Within the first few days of her new journey, she spoke to her first audience, guest hosted for the largest station in the state, and shot a television pilot.
Creator and host of Life Dare Television, Nead has been profiled in Ladies Home Journal, and was awarded an Iowa Motion Picture Association Award. She also works as an actor, regularly appearing in Better Homes and Gardens Test Kitchen and on her Youtube series "Good Words."
Nead believes that changing one's vision will change their life, and that small everyday adjustments will lead to mighty, life changing results. She continues to bring her clients on life-changing mental and physical journeys, including climbing Mt. Kilimanjaro in 2014 and raising funds for organizations like Girls on the Run and Wounded Warriors.
Speech Topics
---
Creating Inspired Vision
Imagination: The ability to picture what could happen, to be able to learn from other's experiences without actually experiencing them. It's the most amazing gift enjoyed by human beings. Everything on my first vision board became a reality in 120 days. Learn how to create life-changing vision. You will never go back!
Play Your Game: accessing your internal blueprint
Each person is born with a unique game that cannot be duplicated by anyone else. Often individuals are taught there is a formula for advancement- they must duplicate a way of talking, thinking and leading that points to success. Imitation often leads to an uncomfortable feeling you somehow don't have the right equipment- and others are better equipped to prosper. Liz Nead believes true success comes from understanding the equipment you were born with, developing these talents into skills and learning to play your game with your team. Liz uses powerful examples of historical and modern day inventors, entertainers and leaders and shares simple strategies to implement your game in communication, leadership, organization and creativity.
Origins: Reaching into the past to create success for the future
Even though she is the daughter of Indian immigrants, Liz Nead experienced a simple American childhood growing up in midwest. As an adult, she began to explore her roots and as she uncovered the personal artifacts of her life, she also discovered six powerful truths around human identity. Liz invites the audience to connect to their own origins, answer essential questions and ultimately take their place as a superhero in the human community.
Active Leadership: A servant approach to leading and empowering teams
Liz Nead shares 6 powerful leadership strategies she learned climbing 19,000 feet to the top of Mt. Kilimanjaro. As she witnessed and experienced the techniques the African and American climb guides used to get 14 novice climbers safely to the top, she realized effective leadership is not a lone voice controlling the masses. Active Leadership is a humble approach, achieving stretch goals with planning, mentorship and a secret ingredient that truly transformed Liz's way of thinking.
Related Speakers View all
---
Candace Reese

The CEO Pundit: Empowerment Speaker, Inspirational C...

Nicole Yeary

Founder & CEO of Ms.Tech, A Company That Aims to Sup...

Kristie Kennedy

Women's Worth & Wellness Expert, TEDx Audacious Lead...

Fran Hauser

Media Executive, Startup Investor & Best-Selling Aut...

Libby Gill

Leadership Expert, Executive Coach & Award-Winning A...

Lolita Taub

Latina Tech Venture Capitalist; Co-Founder & General...

Haydn Shaw

Expert in Generational and Cross-functional Roles, C...

Lori Cheek

Architect; Entrepreneur; Founder & CEO of Cheekd

Story Musgrave, M.D.

Retired NASA Astronaut; Physician & Professor at Art...

Allison Massari

Executive Coach, Entrepreneur, Visual Artist & Burn ...

Jason Young

Former Senior-Level Manager at Southwest Airlines & ...

Dr. Jackie Freiberg

Corporate Culture & Leadership Strategist, Best-Sell...

Danielle Feinberg

Director of Photography at Pixar Animation Studios; ...

Candice Morgan

Equity, Diversity & Inclusion Partner at Google Vent...

Donna Orender

CEO of Generation W & Former WNBA Commissioner

Emilie Aries

Author, Podcaster, Founder & CEO of Bossed Up

Tina Marie Jones

Connecting with the audience through the style of a ...

Vince Poscente

Former Olympic Speed Skier, Best-Selling Author, Lea...

Valorie Burton

Sought-After Life Coach, Expert on Resiliency & Change

Andrea Raquel

Trained Broadcast Journalist / Marketing Pro & Exper...
More like Liz