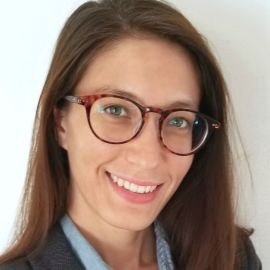 Liz Redford
Behavioral Scientist, Healthy Minds Innovation
Dr. Redford is a Behavioral Scientist at Healthy Minds Innovations where she focuses on developing novel measures of well-being. Her award-winning research and publications use a variety of behavioral science methods, from implicit reaction- time measures to surveys, to explore preferences, decisions, and emotional reactions, ranging from support for political candidates to intentions to engage in environmentally-friendly behavior. She has earned many national and international awards, grants and fellowships, including multiple dissertation awards, an International Fellowship Grant from the Center for Social and Economic Behavior (C-SEB), at the University of Cologne, Germany, and data science scholarships from RStudio::conf, Datacamp, and Open Data Science Conference West. As a consultant with the research organization Project Implicit, she has delivered workshops to non-scientist organizations, like the U.S. Department of Justice, as well as businesses and educators, on the behavioral science of social biases.
Speech Topics
---
Identity and the self (identity, life purpose, and cognitive biases in self-perception)
Social-cognitive processes relevant to well-being (e.g., compassion; justice & morality; person perception and interaction, including biases)
Theory and science of well-being
Related Speakers View all
---
Dr. Mindy Thompson Fullilove

Research Psychiatrist; Professor of Urban Policy & H...

Pelin Kesebir

Scientist at Center for Healthy Minds, Specialist in...

Cortland Dahl

Chief Contemplative Officer, Healthy Minds Innovatio...

Dr. Deepika Chopra

Optimism Doctor & Visual Imagery Expert

Rick Doblin

Psychedelics Researcher; Founder of the Multidiscipl...

Wendy Chung

Clinical and Molecular Geneticist & Physician

David Williams

Professor of Public Health at Harvard University

Brandon David Lewis Marshall

Associate Professor of Epidemiology at Brown University

Ofer Levy

Infectious Disease Specialist

Shekinah Elmore

Oncologist; Dedicated to Pursuing Equity & Empathy i...

Gabes Torres

Artist, Theologian, Psychotherapist, Human Rights Ac...

Dr. Syra Madad

Nationally Recognized Leader in Public Health & Infe...

Russell Lehmann

Author, Poet & Mental Health Advocate on the Autism ...

Kathryn Jacobsen

Global Health Epidemiologist

Tracey Goldstein

Virologist, Associate Director of One Health Institu...

Robert Schiestl, PhD

Professor of Pathology & Environmental Health Scienc...

Tasuko Honjo

Japanese Immunologist; Professor Emeritus at Kyoto U...

Alan Aderem, PhD

Biologist; Co-Founder of the Institute for Systems B...

Arlene Sharpe

Professor & Chair of the Department of Immunology at...

Joao Pereira, PhD

Associate Professor of Immunobiology, Yale School of...
More like Liz