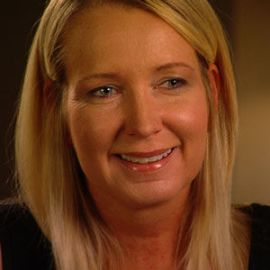 Liz Seccuro
Victims' Rights Activist & Author
Liz Seccuro is a victims' rights advocate and the founder of STARS (Sisters Together Assisting Rape Survivors), a donor-advised fund that assists all survivors of rape, sexual assault, and incest. Seccuro also teaches a few classes a year at Georgetown University's Graduate School of Journalism on how to write responsibly about sex crimes and the art of interviewing victims of violence.
As documented in her 2011 memoir Crash Into Me: A Survivor's Search for Justice, her story began in 1984 when she was drugged and raped by a fellow student, William Nottingham Beebe, as a 17-year-old freshman at the University of Virginia. The university did nothing to aid her in seeking justice and offered no official remedy, leaving her on her own to pick up the pieces. It wasn't until 2005 - after receiving a letter of apology from Beebe inviting her to contact him so that he could explain what led him to rape her and, ostensibly, help her heal - that she was able to take action against him. Following a frightening and eerie email correspondence with her rapist, she submitted her evidence to the Charlottesville Police Department, who arrested Beebe. He was ultimately sentenced to 18 months in prison and required to perform 500 hours of community service, including speaking on college campuses about sexual assault and substance abuse. To this day, there is no record of this condition of parole being met.
Engaging and witty, Seccuro speaks to audiences around the country. Her story is about her fight for justice in a cold case, the wonderful people she's met along the way, the terror involved in questioning herself, and the peace she has found in fighting a system that does not treat rape victims with proper care and respect. Liz also speaks about dating and domestic violence, having been a victim herself as well as the importance of bystander intervention.
Since the publication of Crash Into Me, Liz Seccuro has appeared on a multitude of national television shows, radio shows, blogs, and magazines. Most notably, a three-part excerpt of her book was featured in Marie Claire magazine, both nationally and abroad. In 2011, she received the Shining Star/Vision Award from Boston's Victim Rights Law Center and in November 2012 she was honored by SAVI/NYC of Mt. Sinai Hospital for her advocacy, joining past honorees such as prosecutor and author Linda Fairstein, Trisha Meili (the "Central Park Jogger"), and actress Mariska Hargitay of Law & Order: Special Victims Unit.
In January 2013, she was named to the national advisory board of the Rape, Abuse, and Incest National Network (RAINN) and continues to lobby on Capitol Hill with RAINN on behalf of survivors of violent crime. A frequent contributor to The Huffington Post, she is at work on a number of magazine articles on the scourge of military sexual assault and the NFL's culture of violence.
Speech Topics
---
What's In Your Toolbox: Navigating the Confusing Issues of Sexual Assault, Stalking, Dating Violence, Consent & Bystander Intervention on Your Campus
The ABCs of SA, DV and BI at Your Institution: Planning For the Future
Social Media & Sexual Violence: How Technology Helps & Harms Students & Campuses
Title IX, Clery Act, Campus SaVE: What It All Means For Today's Students & Administrators
What Everyone Needs to Know: How the Internet & "Bro" Culture Have Impacted Campus Violence & Sexual Assault
Related Speakers View all
---
Victoria Rowell

Classically Trained Dancer, Actress on "The Cosby Sh...

Sheryl WuDunn

Pulitzer Prize-Winning Journalist; Co-author of Half...

Asra Nomani

Journalist & Author, Women's Rights Activist

Mary Frances Berry

Professor, Author & Historian; Former Chairperson of...

Rosalind Wiseman

Parenting & Bullying Expert; Author of "Queen Bees a...

Sonia Nazario

Pulitzer Prize-Winning Author & Journalist; Author o...

Tonya Lewis Lee

Author, Producer & Activist

Alexandra Cousteau

Environmental Activist, Storyteller & Ocean Advocate

Kevin Powell

Writer, Humanitarian, President of BK Nation

Nicholas Kristof

Pulitzer Prize-Winning New York Times Columnist & Po...

Patricia J. Williams

Columnist & Law Professor

Michael Patrick MacDonald

Best-Selling Author

Jonathan Kozol

Educator & Social Justice Advocate

Judge Glenda Hatchett

Former Juvenile Court Judge & Star of "Judge Hatchet...

Angela Davis

Feminist, Social Activist, Professor & Writer

Iris Krasnow

Best-Selling Author & Relationship Expert

Geoffrey Canada

Inner-City Youth & Education Advocate

Donna Brazile

Veteran Political Strategist, Bestselling Author, Fo...

John Zogby

Trendspotter & Leading Pollster

Wes Moore

CEO of Robin Hood Foundation, Best-Selling Author & ...
More like Liz