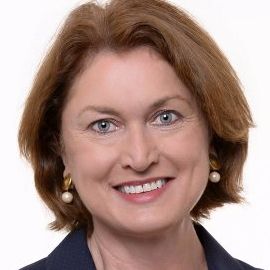 Liz Weber
Plan to Succeed & Plan to Lead. Liz's programs will energize and excite your audiences - and change the way you and they lead!
Known as The Dragon Lady of Leadership Accountability, Liz Weber has been there, done it, and learned from it. Whether speaking to corporate executives or government professionals, her comments and insights on leadership and leadership accountability ring true.
As the founder and Managing Principal of Weber Business Services, LLC, a management consulting, training, and speaking firm headquartered near Harrisburg, PA, Weber and her team of consultants provide strategic and succession planning, executive coaching, and leadership development training and keynotes.
Weber is one of only 12 people in the U.S. to hold both the Certified Speaking Professional (CSP) and Certified Management Consultant (CMC) designations; the highest earned designations in two different professions. She also holds an MBA from the George Washington University.
Weber has supervised business activities in 139 countries and has consulted with organizations in over 20 countries. She has designed and facilitated conferences from Bangkok to Bonn and Tokyo to Tunis. Weber has taught for the Johns Hopkins University's Graduate School of Continuing Studies, as well as the Georgetown University's Senior Executive Leadership Program. She serves as a national director on the board of the National Speakers Association and also chairs their Leadership Succession Task Force and Strategic Planning Committee.
Weber is author the of several books: "Something Needs to Change Around Here: The Five Stages to Leveraging Your Leadership" (2011), "Don't Let 'Em Treat You Like a Girl - A Woman's Guide to Leadership Success" (3rd Edition, 2011), "Leading From the Manager's Corner" (2004), and a contributing author to "Nuts & Bolts on Business" along with Dr. Dennis Whaitley and Jim Cathcart (2009). Weber's Webinar Series: "Strategic Planning Without the Migraine!TM" was released in 2009. Her Manager's Corner column appears monthly in several trade publications, association newsletters, and internet resource centers for executives.
Videos
---
Speech Topics
---
Something's Going to Change Around Here!
Are you tired of working 50, 60, 70 or more hours a week? Do you come in early and stay late, just to get YOUR work done? Are you frustrated by what your team members don't do or can't figure out for themselves? Would you like to learn why you're always playing catch-up just to keep-up? If you answered YES to just ONE of of these questions, this presentation is for you!
Create a Succession Plan in 8 Steps!
Leadership succession and succession planning is more than creating a document. It's creating a culture that believes in constantly supporting, challenging, and developing staff.
Don't Let 'Em Treat You Like a Girl! for Women in Leadership
In this insightful, yet funny presentation, women learn how they may be creating their own roadblocks to leadership success. (Note: There is NO male-bashing in this presentation. It's about leadership and women in leadership roles.)
Strategic Planning Without the Migraine!
Liz's strategic planning process - The Success Planning Pyramid™ has helped organizations including hospital systems, governmental agencies, manufacturers, IT, and financial services firms create clarity, focus, unity - and results.
Related Speakers View all
---
Dr. Jackie Freiberg

Corporate Culture & Leadership Strategist, Best-Sell...

Melissa Daimler

SVP, Talent Acquisition & Development at WeWork; for...

Cheryl Cran

Future of Work & Change Leadership Expert; Author of...

Libby Gill

Leadership Expert, Executive Coach & Award-Winning A...

Bradley R Staats

Professor at the UNC Kenan-Flagler Business School &...

Linda Descano

President and CEO of Women & Co.; Managing Director ...

Liz Wiseman

President of The Wiseman Group & Bestselling Author ...

Polly LaBarre

Founding Member of the Fast Company Magazine, Co-Fou...

Thomas DeLong

Author, Harvard Business School Professor of Managem...

Robert H. Miles

Robert H. Miles is the global thought and practice l...

Dennis Snow

Customer Service Expert, Formerly with the Disney In...

Vince Poscente

Former Olympic Speed Skier, Leadership & Sales Exper...

Lynne Lancaster

Co-founder of BridgeWorks; Generational Expert & Co-...

Chip Eichelberger

Peak Performance, Motivation & Sales Strategist

David Allen

Bestselling Author & Founder of The David Allen Company

Kris Boesch

Founder & CEO of Choose People, Author of "Culture W...

Werner Erhard

An American critical thinker and author of transform...

Karyn Twaronite

Partner, EY Global Diversity & Inclusiveness Officer

Soulaima Gourani

Seasoned Global Businesswoman, Corporate Counselor, ...

Apollo Robbins

Sleight-of-Hand Artist and Self-Described Gentleman ...
More like Liz