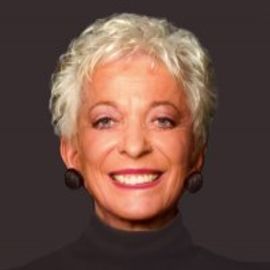 Lola D. Gillebaard was born and raised in Rocky Mount, North Carolina. A premature birth left her with with poor motor control and other serious health challenges that would result in in 17 major surgeries. She has also had a bout with cancer. She now shrugs it all off as "just a big nuisance" on her wonderful path through life and finds humor with every step. Today, at 70+, Lola says, "I have to live forever, because I'm just getting started!"...And people believe her!
As a graduate of Salem College, she was chosen to be included in "Who's Who in American Colleges and Universities." She began her career as a teacher, then met and married her husband Hank and settled in Southern California, where she eventually raised four sons. As an associate college professor, businesswoman, freelance writer, wife and mother, she has always touched people's hearts and funny bones.
Lola received the first-place Reader Digest writer's award for her article, "Old Enough to Die" about her father, which has been published internationally. She also co-authored the book, "Change Your Life with Humor." She has researched the benefits of humor for the past thirty-five years and witnessed the magic of its healing. Her most recent book, "Laughter Made From Experience," is filled with inspiring and heart-warming stories of her many challenging situations told with the Southern charm, wit and humor that is Lola's signature style.
Lola's career as a humorous speaker has taken her across the United Stated many times, to Australia often, and into international waters as featured speaker on several cruise ships. She is past president of the Greater Los Angeles Chapter of the National Speakers Association and winner of both their Silver Foot and Connie awards. She is also the recipient of the VFW Unsung Heroine and the AAUW "Women of Achievement" awards. She was recently appointed to the Health and Integrated Medicine Board at University of California-Irvine after her performance of "Laughter is the Best Medicine" at the Susan Samueli Center.
People of all ages fall in love with Lola's charm, sincerity, upbeat attitude and her ability to capture your audiences. She is magic on the platform with a life time of experience and knowledge as a professor, successful business woman, mother, wife and mostly as a fun and funny woman that will not only make them laugh but also touch their heart. Lola creates sparkle for everyone she meets.
Books
---
Related Speakers View all
---
Loretta LaRoche

Author, Humorist, Stress Expert & TV Personality

Amanda Gore

CEO, The Joy Project; Hall of Fame Motivational Spea...

Juliet Funt

Founder, Owner & CEO of WhiteSpace at Work

Mimi Donaldson

Speech Coach & Author of "Negotiating for Dummies" a...

Dr. Shelley Sykes

The Happiness Guru

Julia Sweeney

Former SNL Cast Member & Cancer Survivor

Vicki Lawrence

Actress, Comedian & Women's Activist; Best Known for...

Christine Cashen

Hall of Fame Motivational Speaker; Author of "The Go...

Judy Carter

Master Teacher, Author, and Humorous Speaker

Steve Rizzo

Hall of Fame Motivational Business Expert & Former N...

Fran Solomon

Specialist in Fun At Work, Teams and Stress Management

Ross Shafer

Six-Time Emmy Award-Winning Comedian, TV Host & Best...

Jim Pelley

Comedian and Former Writer for NBC's "Saturday Night...

David Feherty

Golf Commentator on NBC Sports, TV Host, Bestselling...

Mary Feeley

Edu-Trainer With a Rare Blend of Message, Motivation...

Linda Ellerbee

Award-Winning Journalist & Television Producer; Brea...

Michael Broome

Motivational Speaker on Balanced Life & Values; Stre...

Dave Barry

New York Times Best-Selling Author & Humorist

Christine Clifford

Bestselling Author, Professional Speaker & Breast Ca...

Victoria Labalme

Strategic Performance Coach, Performing Artist & Spe...
More like Lola