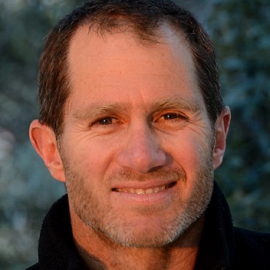 International speaker, former long-time game ranger and safari guide, Lorne Sulcas has an extraordinary perspective. Acclaimed wildlife photographer and author, respected corporate leadership trainer and business owner of the Feel Moved Corporation, Lorne has spent more than two decades studying and photographing the oldest, most enduring marketplace: Nature's African bushveld.
Africa's three big cats -cheetah, leopard, and lion- have a million-year old proven track record of survival in a wild, fiercely competitive, constantly changing world. In these extraordinary keynotes, Lorne shares game-changing success lessons from these three potent hunters of sustaining EXCEPTIONAL RESULTS, GROWTH, LEADERSHIP AND UNCOMMON SYNERGY in the face of massive challenges, change and competition.
Lorne's are compelling, memorable keynotes that connect with employees, executives and entrepreneurs, team members and leaders alike. Lorne's expert knowledge, insights, and captivating personal stories and experiences will enthrall and engage your delegates. His message is mighty and his passion tangible and contagious. His highly-awarded wildlife photographs provide a stunning visual feast, and transport the audience to a new place. His skill in speaking, entertaining, rousing story-telling and use of humour to deliver a powerful and lasting take-away for your organisation, will leave your audience inspired, motivated and most importantly, ready to act.
Videos
---
Speech Topics
---
THRIVING IN THE FACE OF CHANGE
SURVIVING COMPETITION – LEADERSHIP AND VISION
SUSTAINING EXCEPTIONAL RESULTS – SYNERGY, TEAMWORK, COLLABORATION
Speech Topics
Lorne speaks internationally at conferences, events, meetings, and 'in-house,' on the million-year old success lessons from Africa's Big Cats, based on my years' experience as a game-ranger and awarded wildlife photographer. He shares a fresh, exciting message on performance, with great relevance to team, sales, sports, and competitive or changing environments. He speaks on Thriving in a Wild World™: Game-changing Success Lessons from Africa's Big Cats™.
Some of the performance issues he covers: - sustainable growth - thriving in the face of change - surviving competition - triumphing over massive challenges - sustaining exceptional results Some of my topics include: - resilience - focus - teamwork - collaboration - synergy - leadership - vision
Related Speakers View all
---
Paul Snelgrove

Paul Snelgrove led the group that pulled together th...

Lorna Davis

Business Leader, Coach & Wildlife Conservation Activ...

Jennifer Weber

Executive Vice President of Human Resources at Lowe's

Lucy King

Zoologist, Human-Elephant Ambassador

Robert Murray

Change Researcher, Leadership Growth & Integrative I...

Ginette Hemley

Senior VP of Wildlife Conservation at World Wildlife...

Taryn Stejskal

Former Head of Nike's Global Executive Leadership De...

Benny Jacobs-Schwartz

Avian Field Biologist, International Bird Guide, Wil...

Ken Goddard

Director of the National Fish & Wildlife Forensics L...

Paul Gibbons

Author of "The Science of Organizational Change"

Thomas D. Mangelsen

Renowned American Nature and Wildlife Photographer

Robert L. Vetere

Founder of the Human Animal Bond Research Initiative...

Ronnie Doss

Team Trainer for NASA, Author, Leadership & Personal...

Michael Glover

Former Green Beret & CIA Contractor

David Benjamin

Co-Founder of Syntegrity

Kelly Palmer

Chief Learning Officer at Degreed & Author of "The E...

Emma-Kate Swann

Vice President of Leadership & Transformation at Hea...

Captain Ron Johnson

Author, "13 Days in Ferguson". Best Known for Settli...

Eric Maddox

Author of "Mission Black List #1: Capturing Saddam",...

Beverly Joubert

Wildlife Filmmaker & Conservationist, National Geogr...
More like Lorne