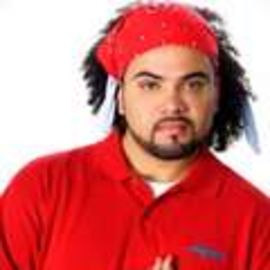 LOS-1
Abstinence and Healthy Choices Singer-Rapper
Carlos "Los-1" Ramirez II is a youth educator skilled in presenting the message of sexual purity to teens across America. His style of teaching and outward appearance fit right in with what teens are looking for in a modern classroom setting. With 13 years of speaking/ rapping experience he's developed an "In your face," yet compassionate approach that is bold while brotherly. Teachers and teenagers consistently respond to his teachings with respect and positive feedback each and every single time! He's certified in the WAIT Training, Game Plan and Navigator Curriculums.
Born in Brooklyn, New York and long time member of Tampa's own Fla.vor Alliance Hip Hop Crew, Los definitely understand today's generation of teens and has independently released four Hip-Hop albums. Using his talents to make a positive impact on society, Los-1 continues to impact youth worldwide at various venues and is guest featured on over 29 other local and national Hip-Hop albums. In 2007 as a featured performer at The Florida Department of Health, Great to Wait Sexual Abstinence Rallies, he brought down the house with other renowned national abstinence speakers. He's also shared the stage with other speakers as Lakita Garth Wright, Luis Galdamez, and David Mahan!
In 2003, he was awarded by the United States Armed Forces as a "Combat Support Speaker" at the Yokota Air Base in Yokota, Japan. He's rapped at the United States National Defense building, The Pentagon within one year of 9/11. Through these events, Los-1 received two Military Coin Awards for Outstanding Assistance to our country!
With his latest effort, Life Skills, Los and IMPACT present a Hip Hop album promoting sexual integrity among teenagers. Los uses this music to bring a message of character and self-worth to an age that's breeding sexual confusion among teens worldwide. "One thing about sexual education that's not current in schools is the style of approach in the classroom.
There has to be a light-hearted yet health conscience stance on teaching teens something you want them to live by" - Los He doesn't preach, he understands and relates today's topics to teens while presenting them in a powerful and effective way.
The supplemental curriculum is written for today's youth, with many object lessons to drive home important facts about healthy choices.
Standing beside Los-1 on a daily basis is A Woman's Place, in Tampa, Fl. and its Prevention Services Department, IMPACT. With 20 years of service to the bay area and beyond, A Woman's Place aids singles and couples alike in the areas of pregnancy testing, post abortion counseling, adoption counseling. A Woman's Place began presenting abstinence education in the schools long before state and federal grant money become available. In 1999, A Woman's Place joined with the Tampa Metropolitan YMCA and the Children's Board of Hillsborough County and was awarded its first state Title V/TANFF grant. In 2005, A Woman's Place was awarded a three-year federal grant for Community Based Abstinence Education.
Los-1 and a team from IMPACT are actively involved in presenting sexual abstinence training to 30 Hillsborough County schools. So with this daily interaction with the youth of today Los is highly skilled to answer current listeners with hip hop styled teaching.
Related Speakers View all
---
David Mahan

Pro-Life & Youth Speaker, CEO of Frontline Youth Comm.

Luis Galdamez

Gifted Bilingual Youth Speaker and Educator

keith davis

Former professional football player & Motivational S...

Jeffrey Dean

Pastor, Counselor, Author, & President of Jeffrey De...

Jay Cameron

Playwrite and Radio Personality

William Sheals

Senior Pastor of Hopewell Missionary Baptist

John Stonestreet

President of The Chuck Colson Center for Christian W...

Reggie Joiner

Founder & CEO of Orange

Judah Smith

Lead Pastor of City Church, Author

Joel Osteen

Founder, Joel Osteen Ministries; Best-Selling Author...

Michael McGrady

Motivational Speaker and Theater, Film & Television ...

Creflo Dollar

Televangelist, Pastor & the Founder of the Non-Denom...

Timothy J. Keller

Author, Theologian, & Founding Pastor of Redeemer Pr...

Stovall Weems

Founder & Lead Pastor of Celebration Church in Jacks...

David Kinnaman

Best-Selling Christian Author; President of Barna Group

Kyle Idleman

Author & Teaching Pastor of Southeast Christian Chur...

John Gray

Christian Comedian, Pastor & Author; Star of "The Bo...

Mark Gregston

Founder & Executive Director of Heartlight

Joe Finley

New York City 9/11 Firefighter

Chet McDoniel

Disabled Inspirational and Pro-Life Speaker
More like LOS-1