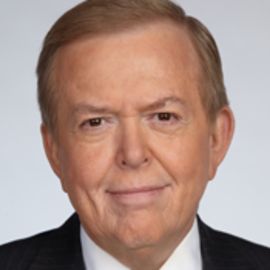 Lou Dobbs, currently the host of Lou Dobbs Tonight on the FOX Business Network is a legendary broadcaster, best-selling author and one of the most respected and insightful voices on politics, economics, society and business. For three decades, Dobbs has brought an unwavering American perspective to the most important issues of our day, whether national security, sustainable economic growth and prosperity, global business, finance and trade, or education and public investment.
Provocative and fearless in his analysis of the leading issues in American society, Dobbs challenges the status quo at home and abroad. He lays out solutions for moving America forward and restoring the American dream for millions of middle class working men and women. He offers prescriptions to build business, create jobs, rejuvenate the nation's manufacturing sector, invigorate education and innovation and secure our nation's borders and ports. Dobbs says our strength of will and independence of mind assure America's return to prosperity, so long as we elect leaders of like spirit who preserve our great national values and ideals.
Dobbs hosts three financial radio reports daily. He has also written important examinations of the American political economy that in some instances anticipated by years many of the issues that challenge our nation today. Dobbs is also the author of numerous best-selling books: Upheaval (January, 2014) Independents Day: Awakening the American Spirit (2007), War on the Middle Class: How the Government, Big Business, and Special Interest Groups Are Waging War on the American Dream and How to Fight Back (2006) and Exporting America: Why Corporate Greed Is Shipping American Jobs Overseas (2004).
Speech Topics
---
The Political Economy
One of America's most experienced and respected financial and political thinkers who has received almost every journalistic award, Lou Dobbs shares his insight on politics and the economy with a keen political perspective. From Main Street to Wall Street to world markets, Dobbs provides probing analysis of our political economy and offers a unique perspective on how our nation's leaders and government and business policies will likely shape America's future.
Independents Day: Awakening the American Spirit
In this stirring presentation, Lou Dobbs calls audiences to action in reclaiming their voice in our national dialogue. America has always been a land filled with a strong independent spirit and will, a country of hope, can-do attitude and entrepreneurial pride. Today, many Americans now look at their leaders in both government and business with cynicism and lack of trust. Rampant corporate corruption and partisan political infighting have done little to help. Leaders have shown a disregard for the will and respect of the middle class. The result is an angry gulf of mistrust that now exists between the government and the governed, between the will of our leaders and the hopes of those who put them in office. Dobbs discusses the need to break away from partisan politics driven by the demands of special interests and instead challenges his audience to do what's best for America. He displays his passionate commitment to the ideals of independence and equality moving this country back to the cherished principles on which it was founded.
Books
---
News
---
Lou Dobbs Tonight | Fox Business
Lou Dobbs Tonight on Fox Business Network - follow Lou Dobbs weekdays 7pm ET as he covers the major news stories of the day with a focus on politics and ...
Related Speakers View all
---
Ben Stein

Political Economist, Commentator, Author & Actor

John Kasich

Former Governor of Ohio

Neil Cavuto

Business Journalist, Television Host & Author

Calvin Trillin

Author, Columnist, Humorist & Political Satirist

Mike Huckabee

Politician, Former Governor of Arkansas & Host of TB...

Donald Trump

45th President of the United States; Businessman & T...

Ray Kurzweil

Chairman of Kurzweil Technologies; Inventor; Futurist

Amy Goodman

Host & Executive Producer, Democracy Now!

Ian Bremmer

Political Scientist, Author, Entrepreneur & Lecturer

Michael Eric Dyson

MSNBC Political Analyst, Former Host of NPR's "The M...

Terry Savage

Personal Finance Expert, Investment Advisor, Syndica...

Norman Ornstein

Bestselling Author, Political Analyst & Resident Sch...

Oliver North

Combat-Decorated Marine, Best-Selling Author & Forme...

Frank Luntz

Political Pollster & Communication Expert

Peter Diamandis

Founder & Executive Chairman of the XPRIZE Foundatio...

Jim Cramer

Television Personality, Journalist, Financial Analys...

Maria Bartiromo

Global Markets Editor, FOX Business Network

Dave Barry

New York Times Best-Selling Author & Humorist

Jared Bernstein

Member of Biden's Council of Economic Advisers; Reno...

Daniel Altman

Sports Analytics & Strategy Expert
More like Lou