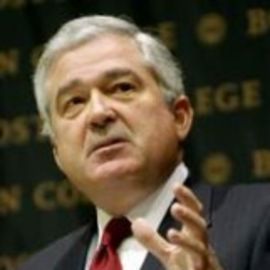 Lou Gerstner
As chairman and CEO of IBM, Lou Gerstner navigated one of the most dramatic turnarounds in corporate history.
As chairman and CEO of IBM, Lou Gerstner navigated one of the most dramatic turnarounds in corporate history. With unparalleled business acumen, he revived IBM ? a company whose very existence was in question in 1993 and made it into one of the most dynamic, customer-focused, and value-driven companies in the world. Gerstner?s presentations are straightforward and no-nonsense, stressing the importance of making smart choices and getting ahead by working harder than those around you. Gerstner?s recent best seller, Who Says Elephants Can?t Dance?, profiles his IBM experiences and the lessons he learned over the course of more than 30 years in business. One of the most admired men in the business community, Gerstner became chairman of The Carlyle Group in 2003. A lifetime advocate of the importance of quality education, he recently created a Commission on Teaching to help solve America?s growing education crisis. Prior to joining IBM, he served for four years as chairman and CEO of RJR Nabisco, Inc., 11 years at the American Express Company, and prior to that he was a director at McKinsey & Company.
Based on his experience leading the financial, competitive and cultural transformation of IBM, Lou Gerstner addresses the specifics of the turnaround, and shares his insights on the broader lessons of his experience and three decades leading major global businesses and brands.
Related Speakers View all
---
Michael J. Fagel, PhD.,CEM

Emergency Manager, Planner, Key Note Speaker, Ground...

Ron Immink

Business book nerd, entrepreneur, founder of smallbu...

Norm Trainor

Practical business

Timothy Donovan

The Competitive Advantage Architect(tm)

Ron Broussard

STRETCHYOURSELF

Nick Tarant

Leadership Consultant and 21st Century Marketing Expert

Nicholas de Wolff

Startup Advisor, Executive Leader, Business Strategy...

Marty Stratton

Entrepreneur Spirited Speaker; Driven for Your Success!

Jay Handler

Speaker, Radio Host & Author of "The 8 M's of Market...

Gillian Muessig

Thought Leader in Global Entrepreneurship

Ian Stirling

Speaker on Business Growth, Franchising and developi...

Daniel James Scott

Daniel James Scott is a noted entrepreneurship exper...

Tim Rooney

Today, PeopleMation is living out his dream to "Help...

Candace Reese

The CEO Pundit: Empowerment Speaker, Inspirational C...

David Nour

Social Networking Strategist

Micah Solomon
Donald Sull

Senior Lecturer at MIT Sloan School of Management; C...

Marcel Bullinga

Futurist & keynote speaker about the future & innova...

Troy Hazard

Troy Hazard is the recent Global President of the el...

Tim Waterstone

One of the most astute and determined businessmen of...
More like Lou