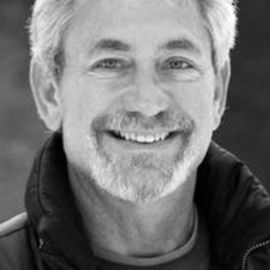 Louie Schwartzberg an award-winning cinematographer, director and producer whose notable career spans more than three decades providing breathtaking imagery for feature films, television shows, documentaries and commercials.
As a visual artist, Schwartzberg has created some of the most iconic and memorable film moments of our time. He is an innovator in the world of nature, aerial and slice-of-life photography the only cinematographer in the world who has literally been shooting time-lapse 24 hours a day, 7 days a week continuously for more than 30 years.
He completed Hidden Beauty, a documentary feature for Disneynature, narrated by Meryl Streep. It won Best Theatrical Program at the Jackson Hole Science Media Awards 2012, and also won a Best Cinematography Roscar Award. The film reveals the fragile relationship between flowers, and their pollination partners. It is a love story that feeds the earth. As a director, he has worked on Mysteries of the Unseen World, a 3D-IMAX film with National Geographic. The film is a journey into invisible worlds that are too slow, too fast, too small and too vast for the human eye to see. He has received Clio Awards for Best Environmental PSA, an Emmy nomination for Best Cinematography for Oceans of Air on the Discovery Channel, and has been recognized as one of the top 70 Cinematographers for the On Film Kodak Salute Series.
Schwartzberg is developing Moving Art, a vast digitally-accessible film library, which is the worlds first collection of moving images created specifically as fine art for digital display ranging from large-format monitors to mobile phones. Using imagery that celebrates every facet of life, mood and emotion, Moving Art transforms the home viewing screen into an emotional-immersive user preference experience.
Schwartzberg is credited by many with pioneering the contemporary stock footage industry by founding Energy Film Library, a global company, which was acquired by Getty Images in 1997. Motion picture clients of his cinematic artistry include Sex in the City, The Bourne Ultimatum, Syriana, Crash, Men in Black, and classics such as American Beauty, Koyaanisqatsi and E.T. among others.
Past projects included Americas Heart & Soul, a feature film distributed by Walt Disney Pictures; a series of HD shorts, Louie Films, for the launch of Buena Vista Home Entertainments Blu-Ray DVD releases; Chasing the Light, a one-hour documentary which aired nationally on PBS; Seasons of the Vine for Disney's California Adventure Theme Park; and a 26-half hour series, America!, for The Hallmark Channel.
Schwartzberg has won two Clio Awards for Best Environmental Public Service Spots, an Emmy nomination for Best Cinematography for the Discovery Channel Special, Oceans of Air, and the Heartland Film Festivals Truly Moving Picture Award for Walt Disney Pictures release, Americas Heart & Soul. He was recognized as one of the top 70 Cinematographers for the On Film Kodak Salute Series. He is a member of the Directors Guild of America and the Academy of Motion Pictures Arts and Sciences.
Related Speakers View all
---
Jeff Orlowski

Award-winning Filmmaker, Photographer, Entrepreneur ...

Ed Begley Jr.

Environmental Activist & Emmy Award-Nominated Actor

Alexandra Cousteau

Environmental Activist, Storyteller & Ocean Advocate

Sebastian Copeland

Adventurer, Environmental Activist, Award-Winning Ph...

David Suzuki

Environmentalist & Scientist; Co-Founder of the Davi...

Peter Diamandis

Founder & Executive Chairman of the XPRIZE Foundatio...

Louie Psihoyos

Photographer & Documentary Film Director Known for t...

Adrian Grenier

Actor Known for HBO's "Entourage"; Environmental Act...

Carl Pope

Senior Adviser to UN Envoy for Cities and Climate; F...

Philippe Cousteau

Explorer, Social Entrepreneur & Environmental Advoca...

Robert Ballard

Renowned Ocean Explorer & Scientist

Anthony Zuiker

Emmy Award Nominated Writer, Creator, Executive Prod...

David Doubilet

National Geographic Photographer & Founding Member o...

Jay Shuster

Art Director & Production Designer at Pixar Animatio...

Matt Damon

Actor, Screenwriter & Producer; Co-Founder of Water....

Brian Skerry

National Geographic Magazine Photographer, Specializ...

Dr. Michio Kaku

World-Renowned Futurist & Theoretical Physicist

Danielle Feinberg

Director of Photography at Pixar Animation Studios; ...

Pierce Brosnan

Actor, Producer & Activist; Best Known for His Role ...

Frank Oz

Film Director, Actor & Puppeteer, Best Known for Bei...
More like Louie