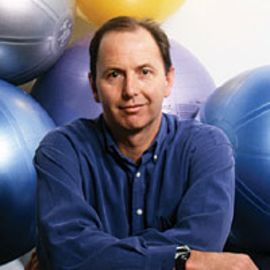 Louis Stack is a third-generation Calgarian and the founder of Fitter International Inc. Louis earned a Bachelor of Arts Degree from the University of Western Ontario, graduating in 1982. He began the company in his basement in 1985 with a $3,000 loan. Fitter has since become a world leader in the development, manufacturing and marketing of simple but highly functional balance and stability training products.
Fitter's FUNctional products help reduce injuries, enhance sports performance and increases user confidence in sports and daily living. Fitter holds a number of patents on unique products that are used extensively in the rehabilitation, athletic and fitness training industries worldwide. Louis oversees the management team from the company's Corporate headquarters in Calgary, Alberta, Canada. He is directly involved in most aspects of the business, with a primary focus on product development, international sales and marketing, and capital relations.
As a life long sports enthusiast, Louis founded the company after ski-related knee and foot injuries forced him to temporarily stop skiing. Not one to give up easily, Louis continued pursuing speed-related sports, conquering the Olympic Luge from 1984 to 1988 and then earned a berth on the Canadian National Speed Skiing Team from 1991 to 1995. During his five-year career, Louis reached a top speed of 205.56 kph in Les Arc France. And in 1995, Louis finished 19th in the World Speed Skiing Championships held in Yllas, Finland. This experience has given him an in-depth understanding of training in the competitive sports environment at a World Cup level. Louis is an accomplished author and public speaker and has formed business alliances with other specialists in the area of FUNctional fitness, balance, pro sports and rehabilitation. Louis regularly makes guest appearances on videos, radio talk shows, and television programs.
In 1989 Fitter won the Alberta government distinguished Export Achievement Award. In 1993 Fitter was the first Calgary company to work with the University of Calgary as a key team player in the" Strategic Thrust of Interdisciplinary Education", which involved working with the Industrial Design School, the Masters MBA Program and the Research Department of Foothills Hospital. As an official supplier, Fitter has been recognized by the Canadian Ski Association for outstanding contribution to both the National Alpine Ski Team and the National Ski Jumping Team.
In 2001 and 2002 respectively, Fitter was recognized in Alberta Venture Magazine's - 30 Fastest Growing Companies in Alberta. In October 2002, Fitter won the coveted Calgary Chamber of Commerce "Small Business Owner of the Year" award.
Books
---
Related Speakers View all
---
Mark J. Ryan

Mark J. Ryan is an expert in NLP, hypnosis, & helpin...

Cathy Sexton - The Productivity Expert

Ignite Your Performance & Accelerate Your Results

Elizabeth Bowman

Innovatively Organized is a Seattle-based organizing...

Angel Tuccy

Denver Radio Host, Best Selling Author, & Do-It-All Mom

Chris Hogan

#1 National Best-Selling Author; Dynamic Speaker; Fi...

Jon Acuff

Lead Pastor, Christian Speaker; New York Times Bests...

Matthew Halloran

One of the Top Financial Services Coaches in the Nation

Dave deBronkart

Kidney Cancer Survivor & Patient Advocate Known as "...

Kristen Hagopian

Personal Finance Author, Popular Columnist, Consumer...

Liz Nead

Executive Business & Life Coach

Mark Victor Hansen

Founder & Author of Chicken Soup for the Soul Book S...

Robin Crow

Acclaimed Musician, Entrepreneur & Bestselling Autho...

Daniel Burrus

Technology Futurist, Business Strategist & Hall of F...

Kevin Achtzener

Focuses on improving customer interaction through hi...

Michael Gelb

Innovation and Creativity Expert and Author of "How ...

Tim Seitz

The World's Happiest Hypnotist

Russell White

"Business in the New Economy" authority How to put y...

Richard D. Walker

Efficient CEO; Empowers Others to Become the Best Ve...

Jonathan Fields

Award-Winning Author, Entrepreneur & Founder of The ...

Jay Handler

Speaker, Radio Host & Author of "The 8 M's of Market...
More like Louis