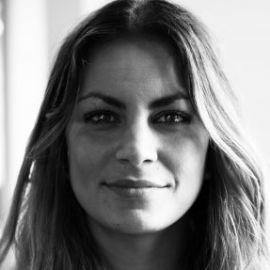 Learner, maker, systems thinker, innovator and tech evangelist, Luciana heads up Innovation at Beyond — an award-winning design company building transformative customer experiences — and is co-founder of Unfold Inclusion, a social enterprise powering women/diversity in XR in the UK. Passionate about VR/AR/tech for good, she carries ongoing research on the possibilities and challenges immersive tech presents as re neuroscience, empathy and female empowerment.
Previously a freelancer with a combined 7+ years' experience at award-winning startups such as Racefully, UniPlaces, Import.io — on both the technical and creative side — she is driven by big ideas, a global mindset & empowering tech entrepreneurs, especially next generation #ladyhackers.
She is a BIMA100 Rising Stars 2018, STEM ambassador and member of Code First Girls, SheWorx, Ada's List, Founders of the Future, Women of Wearables, Women Who Code, Blooming Founders, among others. She is also a NED and Evangelist at Realities Centre London, an incubator and academy for B2B VR/AR/MR innovation, and co-chairs the VRAR sub-group of Tech London Advocates.
Along her career, she has consulted for the likes of The World Bank, Panasonic R&D, Bloomberg, Lloyds, Intel, KPMG, Facebook and Barclays, and regularly speaks about her journey and current work at schools, conferences and companies worldwide. Highlights include: TEDx Manchester, WOW Talks, VR World Bristol, VR&AR World, Leeds Games Festival, Im-Architecture Conference, WeAreTheCity, GeekGirlsUK and CFG Annual Conferences. She has also hosted and continues to host webinars on neuroVR and women in tech with BrightTALK and BeMyApp.
Videos
---