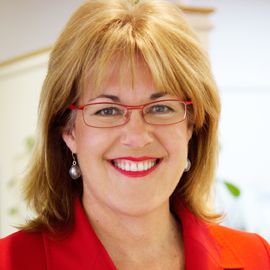 Lucinda Yates
A guide to creating a meaningful brand, relationships and securing business
Lessons of the Street: A guide to creating a meaningful brand, relationships and securing business
Lucinda is an inspirational speaker with magnetism, insight and humor. Her story reveals her path to homelessness to her realization that you are only one choice away from changing the world. Yates' story focuses on the power of perseverance in an entrepreneurial organization, how out-of-the-box thinking can build and brand your company, the power of women in business and the notion that--with effort and resolve--lives can be made better. This incredible story is told and shared in a way that empowers all who hear it. Yates is a businesswoman who is causing an effect each day, in a big way.
Building Bridges: One to One Marketing
Getting people to talk about your company, its products and your customers is the mindshare that all great marketers and companies strive to achieve. Yates' journey of personnel and financial recovery led her to the realization that she could merge her past experiences into the present of her life. Now, she "builds bridges" for organizations and corporations who wish to help their communities. Amazingly, Lucinda transformed her homeless status as well as her outlook on life and now champions a viable means of raising money, awareness, and doing business. Find out how Yates' business model gets people talking about her business, her personnel story, the community and her customers!
Homeless to Entrepreneur
In the early 1980s, due to the pain of divorce and financial setbacks, Lucinda and her young daughter found themselves homeless, living day to day. At one time, she searched for bridges sleep under at night with her small daughter. Lucinda changed these conditions by digging deep into her spirit and was able to find a home and rebuild a life. These experiences made her who she is today and brought her to a business model beyond what anyone would ever dream.
About Lucinda Yates
Once homeless and destitute, Lucinda Yates took her future in her hands and created a multi-million dollar company. Her success story not only inspires – it delivers.
Inspirational Entrepreneur: Awarded Best Small Business Out of the Box by UPS, Lucinda Yates' start-up company grew from selling a handful of handmade pins to selling 4 million pins that have raised over $24 million for non profits. With her "dare to make a difference" attitude, Lucinda shows audiences the strategies she used to overcome obstacles and how to apply those same practical strategies to your organization's needs.
Success Story: Lucinda's unique insight into overcoming obstacles and challenges in order to achieve both personal and corporate success is inspiring and educational. With her direct approach to handling problems, Lucinda empowers audiences and inspires employees.
Philanthropist: Featured in Better Homes and Gardens, Lucinda's pin sales not only saved her from poverty, but raised both awareness and millions for non profit organizaitons. With integrity and passion, Lucinda looks beyond the bottom line to give others a chance at opportunity and success. Her story reveals her path to homelessness to her realization that you are only one choice away from changing the world.
Speech Topics
---
Don't Be An Ostrich?Know Who You Are!
The Homeless Entrepreneur
Don't Compromise Your Principals
Building Bridges: One to One Marketing
Lessons of the Street: Creating a meaningful brand, relationships and securing business
Related Speakers View all
---
Naomi Judd

Grammy Winning Singer-Songwriter, New​ ​York​ ​Times...

Kathy Ireland

CEO & Chief Lifestyle Designer of Kathy Ireland Worl...

Mark Victor Hansen

Founder & Author of Chicken Soup for the Soul Book S...

Erin Gruwell

Inspirational Educator & Author of "The Freedom Writ...

Kristie Kennedy

Women's Worth and Wellness Expert

Dyana Valentine

Entrepreneur; Founder of WHY and creator of Super Co...

Ali Brown

Entrepreneur, Business Coach, Author & Television Co...

Malaak Compton

Activist & Philanthropist

Suzanne Somers

Celebrity Alternative Medicine Advocate & Author, Br...

Rosario Marin

Former Treasurer of the United States

Star Jones

Former Co-Host of "The View", Social Justice & Heart...

Daymond John

"Shark Tank" Investor; Founder & CEO of FUBU; Presid...

Farrah Gray

Celebrity Entrepreneur & Bestselling Author of "Real...

Stedman Graham

Chairman & CEO of S. Graham & Associates, Leadership...

Andrea Rodgers

Founder of AskMissA.com, Philanthropist, Charity & L...

Cynthia Germanotta

Co-Founder of the Born This Way Foundation with Daug...

Sabine Heller

CEO of invitation only social community ASMALLWORLD...

Tina Wells

Founder, CEO, Buzz Marketing Group

Heidi Ferrer

Screenwriter; Founder & CEO of GirltoMom.com; Recove...

Michael McCain

Awakening Millions To Their Potential -Author, Coach...
More like Lucinda