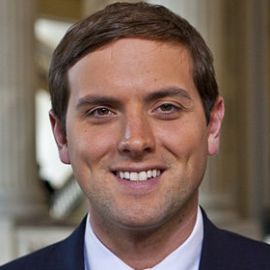 Luke Russert joined NBC News in August 2008 as a correspondent based in Washington, D.C. Russert currently reports from Capitol Hill on the House of Representatives for NBC Nightly News, Today, MSNBC and NBCNews.com.
Russert covered the 2008 Presidential election, reporting from both the Democratic and Republican National conventions. His Election Day reporting on the impact of young people on Barack Obama's victory contributed to NBC's News & Documentary Emmy award as part of the 2008 Election Night coverage.
Since May of 2009, Russert has covered Congress with a focus on the House of Representatives. He has reported on various political issues including the passage of the Affordable Care Act, the Republican resurgence of 2010, the debt limit crisis of 2011 and the Fiscal Cliff fight of 2012. In 2010 Russert received a public apology from then House Ways and Means Committee Chairman Representative Charlie Rangel (D-NY) after the congressman chastised Russert for his aggressive questioning over an ethics report that determined Rangel had failed to disclose improper real estate holdings and had illegally solicited donations using official Congressional stationary. In 2011 Russert was the first journalist granted a sit down interview with Representative Anthony Weiner (D-NY) after reports surfaced that the congressman sent inappropriate pictures over the internet to young women. Weiner told Russert he "couldn't say with certitude" if the pictures were in fact of him. Shortly after the interview Weiner resigned from Congress.
Since late 2011 Russert has served as a guest host on various MSNBC programs including: Way Too Early, The Daily Rundown with Chuck Todd, Andrea Mitchell Reports, NOW with Alex Wagner, and The Cycle.
Russert blogs on First Read, the first place for key political news and analysis from the NBC News Political Unit.
Not limited to political reporting, Russert has covered Hurricanes Gustav, Ike and Irene, the earthquake that hit the East Coast in August in 2011 and the Boston bombings. He has also appeared as a street correspondent on NBC's New Years Eve Special with Carson Daly and taped various interviews with celebrities including Usher, Jessica Alba and Ted Nugent.
In 2012 Russert filed a report for Dateline about the possible wrongful conviction of Jon-Adrian Velazquez at New York's infamous Sing-Sing Prison. The report has been nominated for a 2013 "News and Documentary Emmy" award.
From March 2006-2010, Russert cohosted the critically acclaimed sports radio talk show 60/20 Sports with political pundit James Carville on Sirius-XM Satellite Radio. On 60/20 Sports he interviewed the likes of former President Clinton, former President George Bush, Bill Russell, Cal Ripken Jr. and Lance Armstrong.
In May of 2009, Russert was honored with the "Marlin Fitzwater award for Leadership in Public Communication" from Franklin Pierce University, an award meant to honor individuals who have made significant contributions to public discourse in the spirit of a healthy democracy. He has also received an honorary degree from Wingate University in North Carolina.
Russert graduated from Boston College with a double major in History and Communications. He is the son of the late Tim Russert and Vanity Fair writer Maureen Orth. Russert lives in Washington, D.C., with his pug Chamberlain.
Videos
---
Speech Topics
---
What the Millennials Are Thinking and Insights on Headline News
For decades, young people have played a marginal role in politics, but a combination of compelling issues—including 9-11, the election of Barack Obama and the current economic instability—have galvanized many otherwise disaffected young Americans. The Internet has given a "Red Bull" jolt to political participation, allowing more people to get involved in more ways. A correspondent for NBC News who reports from Capitol Hill on the House of Representatives and covers youth issues for NBC Nightly News, Today and MSNBC, Luke Russert brings his views and analysis on America's youth political movement. Russert shares with audiences his up-to-the-minute analysis of current events including news from Congress and the Obama Administration. He leads a spirited Q&A session in which he is ready to weigh in on any topic, anytime and shares his insights on how social networking and technology will continue to change not only campaigning, but governing as well.
Related Speakers View all
---
Bill Sammon

Fox News Washington Deputy Managing Editor, Pulitzer...

Morton Kondracke

Political Commentator & Columnist

Alex Michel

Digital Media Executive & Television Personality; Kn...

Linda Chavez

Conservative Political Commentator, Chairman of the...

Jared Sichel

Jared is an award-winning journalist and senior writ...

Robert Fisk

Middle East Correspondent for The Independent

Dave Zirin

Political Sportswriter; Sports Editor, The Nation

Elliot Jager

Israel-based Elliot Jager is a journalist with Newsm...

George Monbiot

Investigative Journalist, Known for his Environmenta...

Carl Cameron

Former Chief Political Correspondent for Fox News; C...

Don Gonyea

NPR's National Political Correspondent

Howard Berkes

Howard Berkes has been NPR's rural affairs correspon...

David Weigel

Political Reporter for The Washington Post

Jason Mattera

Emmy-Nominated Journalist, Conservative Activist & A...

Dan Flynn

Author, Columnist, & Senior Editor of "The American ...

Bob Franken

Former CNN Political Correspondent

Mark Grimm

Former TV Anchor Is Thought-Provoking Speaker

Sam Whitfield

Conservative Youth Leader, Talk Radio Host, Entrepenuer

Ari Melber

Attorney & Journalist for NBC News; Host of MSNBC's ...

Ari Berman

Political Correspondent & Author
More like Luke