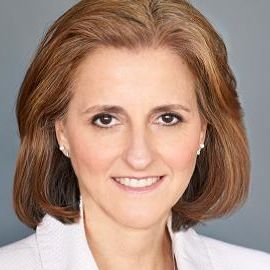 Lynne Biggar has been Executive Vice President and Chief Marketing and Communications Officer of Visa since February 2016. In this role, Biggar oversees all of Visa's branding, insights, sponsorship, communications and go-to-market consumer and client marketing activities that advance Visa's brand and business outcomes.
Biggar joined Visa from Time Inc. where she was the executive vice president of consumer marketing and revenue. At Time Inc., she was responsible for driving consumer revenue for Time Inc. brands and products across all channels, consumer insights, data solutions and customer service.
Prior to her role at Time Inc., she spent more than 20 years at American Express in a variety of general management and marketing positions in both the US and international divisions and was a member of the company's global management team. Most recently, Biggar was executive vice president and general manager of international card products and experiences.
In 2019, Biggar was named one of Forbes' 2019 World's Most Influential CMOs. In 2018, she was named one of AdWeek's Outstanding Tech-Savvy CMOs and Most Powerful Women in Sports and to the AdWeek 50.
Biggar holds a BA in international relations from Stanford University and an MBA from Columbia University.
Videos
---